The Early Effects Of COVID-19 On Online Shopping
Username: 
Name:  
Membership: Unknown
Status: Unknown
Annual Revenue: 
Profile Complete: 
Private: FALSE

						
It's hard to have a conversation – any conversation, really – without it turning to COVID-19 these days. Every work call, every personal call, all of it. So during an online meeting with our friends at Yottaa last week to plan out our annual retailer website performance evaluation research (coming later this spring), the conversation invariably turned to the coronavirus. And then we had a collective idea: why not conduct some fast-turnaround consumer research to see how shoppers – specifically: American shoppers – are already changing their behaviors during this pandemic?
The result: in a matter of days we had responses from nearly 1,200 US shoppers aged 18+ to the list of questions we'd conjured up. The first thing we wanted to know? How often will shoppers be turning to eCommerce as a result of this outbreak. As you can see in Figure 1, the effects are already quite stark.
Figure 1: Online Shopping Is Increasing – Quickly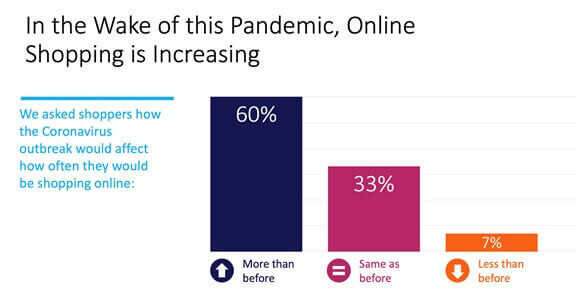 Source: RSR Research, March 2020
More than half of respondents expect it will be necessary to fulfill their daily needs by turning to online sources. But what does this mean for brick and mortar-based retailers in the early days of the pandemic?
Figure 2: When Will I Visit A Store? Only When Absolutely Necessary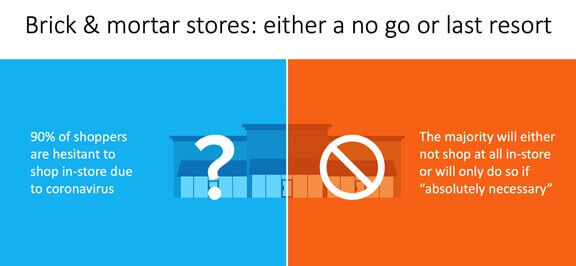 Source: RSR Research, March 2020
One of the first things this crisis has exposed to most US residents: just how social most of us have been in the past. We've long been accustomed to having the freedom to visit museums and amusement centers, attend concerts and sporting events as often as we choose, all of which are now non-options. But even smaller things – visiting individual stores, shopping centers, restaurants – these have become part of the fabric of our daily routine, and as it turns out: entertainment.
While it is easy to see how events, restaurants, and social events will bounce back, the question is: will store-based shopping return to its prior glory? Or will consumers' newfound requirements to fulfill their needs online form a lasting behavior for whenever this crisis ends? Either way, it is clear that shoppers are eager to find alternatives to Amazon in the meantime (Figure 3).
Figure 3: Amazon: Cracks Beginning To Show?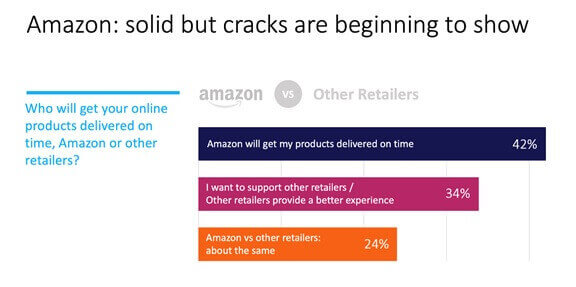 Source: RSR Research, March 2020
Amazon has been racked with challenges early on in this crisis. Massive out of stocks, publicly-exposed cases of price-gouging – even reports of COVID-19 running rampant among employees in the Distribution Centers it uses to fulfill orders – all have been headline-worthy.
We asked more questions: 6 in total. If you're interested in reading those results, check out the document here. Like everything we do, it is free to anyone willing to sign up for our research. Sign up is also free.
And lastly, we wish safety and health for all our readers. Our individual sacrifices during this once-in-a—century event make all the difference for the group at large. Be well.
Newsletter Articles
March 31, 2020