The Basics Still Apply

						Username: 
Name:  
Membership: Unknown
Status: Unknown
Private: FALSE
					
Some things seem to never change. Take for example, issues surrounding pricing. RSR has made it almost a truism that price transparency has made it virtually impossible for retailers to cover new or additional costs associated with omnichannel retailing (for example, the additional labor required in stores to handle buy-online-pickup-instore orders) with higher retail prices.
The issue of price transparency became a major challenge for retailers as more and more consumers started using the mobile devices to compare. Nowadays, consumers have the power to compare prices in their hands 24X7, and retailers simply cannot pass costs to consumers in the form of price increases without being punished by savvy shoppers. The impact of mobile and internet-connected devices is clear in our benchmark findings: in 2009 (around the time that the Apple iPhone was hitting its stride), we conducted the company's first benchmark on Pricing[1], and in that study we learned that only 15% of retailers identified "increased price transparency – the effective of comparative price shopping" as a major business challenge. But fast forward to 2021, and our benchmark on Merchandise Planning[2] revealed that the top business challenge that retailers face in their merchandise strategy is that "our customer has become more price sensitive than ever" (61% agreeing). That's a big change in attitude!
We summarized our advice to retailers in the last (2017) study of the state of retail pricing[3] this way:
"Price today is perhaps the biggest component of 'value', but it's certainly not the only one. Ultimately, the 'relevance' of the value proposition to each consumer in the context of their lifestyle need is most important. A good price will never be good enough if the value proposition isn't relevant. So continuously finding ways to improve the total value proposition (including price) is critical to winning."
Because a "good price" is such a baseline expectation for consumers, RSR has wondered why it is that more retailers haven't focused more on analytics in general, and Price Optimization in particular, than they have. As far back as in 2014[4], RSR stated that "failing to use the proven science behind Price Optimization technologies has become a true inhibitor for retailers. The science isn't new – in fact, it's been available … since the 1990s." In fact, the mathematics behind price optimization (for base price, promo price, markdown) is well established, and solutions that implement that math are readily available today and deployed at many of the most successful retailers in the world.
In a benchmark study we are conducting now, retailers' responses clearly show that pricing battles are being fought with technology – and as we've come to expect, over-performers ("Retail Winners") are doing a better job (Figure 1). But two other realities jump out: 1) in general, Retail Winners are more aggressively seeking to improve their abilities to optimize prices and promotions in the coming year, and 2) even with such proven solutions available, there is still a certain percentage of retailers that either do not take advantage of them or are dissatisfied with the results.                 
Figure 1: Competitive Weapons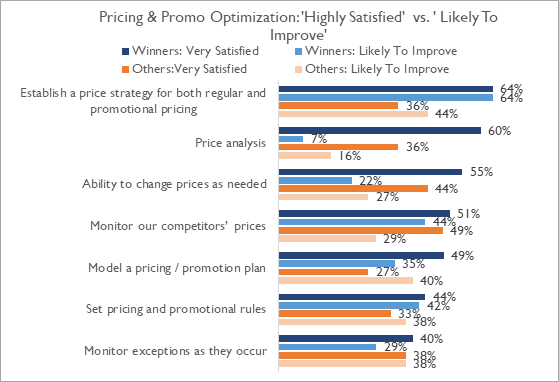 Source: RSR, January 2022
The shortfall in the number of satisfied users that is most jarring is with "price analysis". How can this be the case? Looking inside the numbers might tell the tale: the largest retailers (those with revenues over $5B) are the ones that most frequently are 'very satisfied':

What these findings imply is that the technologies that enable "price analysis" are either perceived to be or are in fact too expensive for most retailers. Solutions companies that are trying to commoditize these capabilities should see a huge opportunity in retail. But looking back at Figure 1, we can also a sense of exhaustion in the findings too. Too few retailers are "seeking to improve" their capabilities overall.
Whether that's something that solutions providers need to address with ever-easier-to-use capabilities, or whether retailer leaders need to foster some energy within their organizations – or whether it's simply a case of retailers having so much to do that they can't address these issues right now, the consumer is watching. Retailers simply must deal with the basic issue – if they can't be competitive on price, the rest of the value proposition just doesn't matter.
[1] Going Local: Emerging Best Practices in Localized Pricing and Promotions, RSR, January 2009
[2] The Agile Merchandising Lifecycle In The Age Of Disruption, RSR, December 2021
[3] Retail Pricing 2017: The Dawn Of Personalized Prices, RSR, March 2017
[4] The Pricing Paradox, RSR, April 2014
Newsletter Articles
January 10, 2022