Sneak Peek: The Quest For A Resilient And Agile Supply Network

						Username: 
Name:  
Membership: Unknown
Status: Unknown
Private: FALSE
					
EDITOR NOTE: This spring, the RSR team will publish its latest benchmark on the state of the Retail Supply Chain. The following is an excerpt – but look for our announcement when the full report is made available!
 "Improved forecasting" has been on retailers' wish lists for a long time. But just as RSR has been observing for over 10 years, in our forthcoming study on the state of the supply chain, "more accurate forecasting" remains at the top of the list of opportunities that retailers identify (Figure 1).
Figure 1: Demand – A Fast Moving Target
Top Opportunities To Improve Supply Chain Performance

 

2012

2015

2018

2020

2023

Improved Forecasting

51%

41%

36%

54%

47%
Source: RSR Research, Forthcoming Release
These findings might lead a casual observer to think that little progress is being made to improve planning and forecasting- but that interpretation would be a mistake. Improvements in forecasting analytics and the new data available to retailers have had a profound impact on the precision with which planners can forecast consumer demand. As RSR noted in our 2021 benchmark entitled Managing Through Disruptive Times With Data Driven Speed And Adaptability[1], over-performing Retail Winners put an "emphasis on the ability to produce highly granular and accurate forecasts using new data and gain new insights from existing data" (we'll see more about "improved forecasting" later in this report).
What has changed are the dynamics of the marketplace itself. Fast and fierce competition, consumers' ability to shop anywhere 24X7 via digital devices, and a generational shift in today's shoppers, are contributing factors forcing retailers to be much more agile in response to changes in both supply and demand than they ever had to be before.
Those dynamics are reflected in the value that retailers place on "better forecasting", in addition to "better visibility" and "improved exception alerts". But these objectives are driven by consumer expectations. In October 2022, we asked consumers how forgiving they are when they can't find what they are looking for, we and learned that there isn't much wiggle room for retailers (Figure 2).
Figure 2: Consumer Want What They Want When They Want It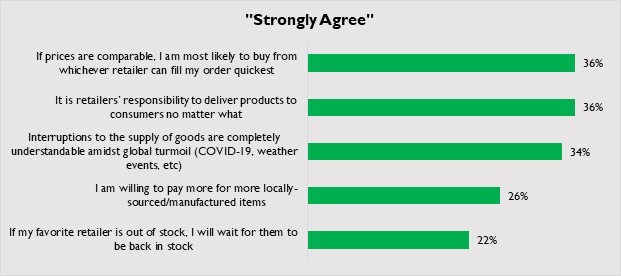 Source: RSR Research, October 2022, N=1039
In the wake of all the product availability issues that have plagued retailers, "the supply chain" is now a breakfast table conversation for consumers. There is little doubt that new consumer expectations for a seamless shopping experience are triggering big changes in retailers' operational processes, and retailers' response to those expectations has created a ripple effect throughout operations and even with supplier relationships.
As a result, agility (the ability to quickly adjust to changes in demand) and resiliency (the ability to respond to supply chain shocks) have become boardroom issues.
[1] Managing Through Disruptive Times With Data Driven Speed And Adaptability, RSR Benchmark Report, February 2021
Newsletter Articles
March 2, 2023