Innovation: Are Retailers Trying To Do Too Much?
Username: 
Name:  
Membership: Unknown
Status: Unknown
Private: FALSE

						
One of the best bits of advice I ever got was delivered to me when I was a newly-minted IT project manager. Like a lot of new technical managers, I tried to hang on to what had gotten me to that point while simultaneously learning all the new skills needed to manage a team. And like a lot of new managers who try to keep one foot in the "old" and the other in the "new", I was in danger of becoming a new proof-point for the Peter Principle. My boss saw this happening, and interceded by sending me off to a management training course. And that's where I was given that priceless bit of advice: "you need to focus on doing what you do well, so that the things you don't do so well aren't as obvious." I've never forgotten that pearl of wisdom.
This little story came to mind when I had a chance to hear Morten Hansen, a management professor at U.C. Berkeley and author of the book "Great At Work", at the NRF Tech meeting in June. Professor Hansen's talk was about "how top performers do less, work better, and achieve more", and to highlight his point of view, he told the story about the race to the South Pole in 1911. To make a long story short, the UK team led by Robert Falcon Scott died trying, while the Norwegian team led by Roald Amundsen succeeded in reaching the Pole and lived to tell about it. The difference between the two teams fit into Hansen's model for success: the British team suffered from "option overload" by trying five different modes of travel (sled dogs, motorized sledges, Siberian ponies, skis, and man-hauling), while the Norwegian team focused on one mode (sled dogs). Hansen's contention was that Scott's team became fatally distracted trying to manage all their options. As Wikipedia states, "Amundsen's expedition benefited from his careful preparation, good equipment, appropriate clothing, a simple primary task, an understanding of dogs and their handling, and the effective use of skis. In contrast to the misfortunes of Scott's team, Amundsen's trek proved relatively smooth and uneventful."
In other words, Amundsen's team didn't try to do too much; instead they chose to do one thing really well.
What does this have to do with innovation in Retail? Well, the industry is under a tremendous pressure to innovate. We hear it from tech companies, new generation retailers, and from pundits and analyst groups. Not long ago, one speaker at an industry event stated that, "The new model for retail is 'platform plus' … It's all about more, more, more. Retailers cannot focus on their core; they need to add pieces to their platform, to their core, to their foundation."
That seems to be the consensus. Here's the thing though; all the innovation in the world isn't going to help if you don't know what that one special thing is that consumers want from you.
I commented in an August 2018 Retail Paradox Weekly piece, "… when does 'innovation' become absolutely critical to success? Sometimes … retailers need to go back to look the value proposition and ask themselves 'what's so good about our experience that consumers will pass up our competition and experience it with us?'"
I think that question is the crux of the matter. If most retailers are honest about it, unless a retailer is offering products that can't be commoditized, there isn't much being offered that's so unique that customers just have to experience it. As my boss used to say, "a can of beans is a can of beans". But that doesn't mean there couldn't be some unique value.
A few weeks ago, I highlighted the cosmetic retailer Ulta Beauty. Ulta operates in a dangerous category; beauty and personal care products are reportedly the 2nd biggest category for Amazon. And Ulta competes directly with Sephora, which has made a big deal out of innovations like Sephora Virtual Artist, which uses AR technology to enable consumers to "try" makeup products on their iOS device.
Despite the competition from both Amazon and Sephora, Ulta seems to be carving out an extremely loyal segment of the market, and that has resulted in a 14% top line growth (and an 18% bottom line improvement) according to its most recent annual report. So what are they doing that is so special? They carry private label and offer services, and have a CRM system that can target offers to loyal consumers. Those are good moves, but not all that unique. But what IS unique is where the growth is coming from: 95% of its revenue generated by its loyal customer program. In fact, the company website highlights the strategy:
Our Value Proposition: We believe our focus on delivering a compelling value proposition to our guests across all of our product categories drives guest loyalty. We offer a comprehensive loyalty program, Ultamate Rewards, and targeted promotions through our Customer Relationship Management (CRM) platform. We also offer frequent promotions and coupons, in-store events and gifts with purchase.
I would argue that what Ulta is doing is highly focused on offering consumers relevant value through its loyalty program, and doing it so well that consumers are totally bought into the program. In other words, rather than doing "more, more, more" (like Commander Scott tried to do in 1911), Ulta is following the Amundsen methodology.
This brings me to a data point that we've discovered as we analyze responses to our recent survey about the state of innovation in retail (the full report is scheduled for delivery in September). Here it is (Figure):
Figure: Trying To Do Too Much?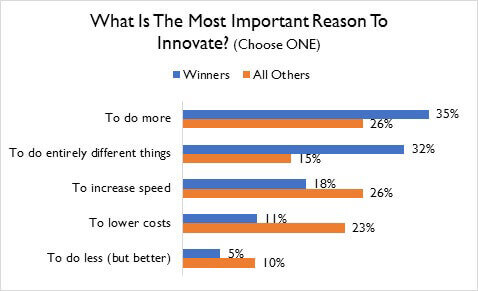 Source: RSR Research, August 2019
Retailers' responses clearly show that they are in a hurry to do more, and many overperforming "Winners" also want to come up with something totally unique, while average and under-performers are trying to deal with more basic needs – the need to go faster and spend less. But few retailers choose "to do less (but better)"!
Professor Hansen advises against trying to do too much in his book, but instead to "do less, then obsess"- and I think he's right. That doesn't mean to suggest that retailers should forget about keeping up with changes in the industry. But while keeping up with consumer adoption of technology is really important, it's not innovative – other retailers have managed to do that. While bringing the digital and physical shopping environments together is also important – again, some retailers have done that. Having a hyper-responsive supply chain? Same story. These achievements are only strategic in their absence.
Ultimately, retailers need to come up with an answer to the question, "what's so good about our experience that consumers will pass up our competition and experience it with us?", and then absolutely nail it. Ironically, executing to the nth level of precision with a laser-like focus on that one special value proposition might even seem innovative.
Newsletter Articles
August 12, 2019