ESRI User Conference 2019: The Value Of GIS

						Username: 
Name:  
Membership: Unknown
Status: Unknown
Private: FALSE
					
Last February, RSR published our second annual benchmark on a relatively new subject, "location intelligence ". In the report, we noted that just as we found in the first (2018) study, in 2019 "retailers overall identified connecting with consumers and engaging with them personally as the most important capabilities that geo-location data and analytics could enable… although it must be noted that over-performing Retail Winners saw location intelligence as an opportunity to make certain operational processes better, such as using location-based intelligence to improve site selection processes and to improve localized assortment decisions. " Solutions that address the challenges and opportunities in both the customer-facing and operational sides of the Retail business are enabled by new geo-location data, often generated by "smart " mobile devices.
Esri ( "Environmental Systems Research Institute ") sponsored our 2019 benchmark report, and so I had an opportunity to report our findings to a retail focus group at the Esri User Conference in San Diego two weeks ago. For those unfamiliar with the organization, Esri is the world's leader in the GIS ( "geographic information system ") software market, with a greater-than 40% market share in analytical software and geo-database management solutions. Although retailers have been enriching geographic information with demographic and psychographic data to plan store locations for many years, using GIS information to increase visibility into market conditions is relatively new.
Esri has been a key participant in efforts to study the world's ecosystems; for example, Esri assists non-profit organizations in their nature conservancy efforts. As a sidebar to this, I commented to one of the other speakers that human behaviors are getting almost as easy to analyze as annual bird migrations by virtue of the fact that "we tag ourselves with our mobile devices ". Her response was, "oh, we know far more about human movements that we do about bird migratory patterns! " That may be exciting or alarming, depending on your point of view – but GIS information and analysis is definitely part of Retail's near-term future.
The 'Digital Twin': Why Should Retailers Care?
Location intelligence is all a part of a greater effort across industries to create a "digital twin " to the physical world. While that phrase might sound like so much techo-babble, underneath it is a really important concept. There are limits to what we humans can observe in the physical world with our eyes and analyze with our brains, but having a "digital twin " in the environment that we operate in makes it possible for us to "observe " a much wider landscape and use data science to analyze events and detect patterns that could be meaningful, so that we can narrow in on a course of action much more quickly. This is all an important part of many industries' efforts to become more responsive to events in the real world, even while those events are happening. More importantly for retailers, being able to "digitally observe " something happening, analyze it and match it to known patterns to arrive at the "next best action " enables automation of some of the millions of decisions that have to be made every day – and that in turn allows the humans running the show to focus on things that really make a difference to consumers.
To illustrate the notion of 'Äòautomated decision making', here's a chart from a recent Tesco presentation on the value of IoT and AI (this applies to geo-location data, which is a big part of the broad set of "IoT " data being generated all around us):
Figure: Automated Decision Making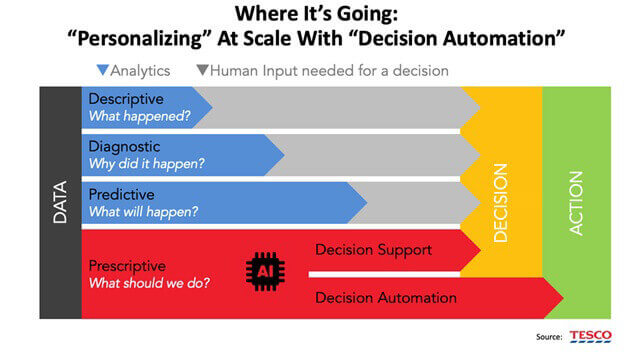 A clear example of how automated decision making can work to help retailers was cited in our 2019 report; one of the top-three business challenges that retailers want to address with location intelligence is that "consumers want more convenient navigation through physical spaces ". Obviously, this challenge can't be addressed for every customer in every store on every occasion the old-fashioned way, i.e. with a greeter to guide the consumer through the store. But as long as a consumer has a mobile phone, she can be presented with a map of the store and (depending on the information she provides) even be presented with a highlighted path to the desired product. My favorite example of this comes from the Nebraska Furniture Mart , whose Wayfinder app promises that "with NFM's Wayfinder App, you can search for in-store products and get turn-by-turn directions to the item that you're looking for! "
Meanwhile, Back At The Esri Conference…
In her keynote comments during the Business Leadership Forum portion of the conference, Esri's CMO Marianna Kantor highlighted the newness of the "digital twin ". Kantor quoted a February 2019 Harvard Business Review study that revealed that only 15% of businesses are utilizing "digital " as a central element of their business strategy efforts. But now, there is a sharp uptick in demands from the C-suite for incorporating location intelligence across the enterprise. Kantor highlighted a range of issues that location intelligence can help address: climate change, global supply chains, under-skilled workforces, mobile data privacy risks, the speed of technology innovation and competitive adoption, and future generations and income disparity – just to name some. But the CMO stated that the big challenge to using location intelligence to help address these issues isn't technical, but attitudinal: a "lack of geospatial urgency ".
For retailers, GIS enabled location intelligence is a pretty new subject, as our research clearly showed.  But at the Esri event, there were two retailers prominently featured in the conference presentations: Ulta Beauty and OXXO.
The Ulta story is compelling. The company boasts a 20% growth rate, with 95% of its revenue generated by it's loyal customer program. Ulta is using customer behavioral data to determine customer segmentation strategies, which in turn is driving localized assortments and helping the retailer determine which localized services should be offered. Ulta is using an Esri ArcGIS Enterprise Server to ingest data from the company's SAP ERP, CRM, and property Management System, along with location attribute data, to provided fully automated analyses to its decision makers. Analyses include market overviews and comparisons, retail comparisons, competitive summaries, and market analytics, all delivered in a highly visual format.
OXXO is one of Mexico's largest retailers with over 18,000 convenience stores (the company opens 3 or 4 new stores DAILY!). OXXO is using location intelligence to guide its expansion program, and specifically wants to address issues such as cannibalization of existing store volumes, improving sales forecasts, identifying "white areas " (holes in the marketplace for OXXO to fill), making faster decisions, and maximizing market potential. I was speaking with Enrique Espinoza, OXXO's expansion program director, about how his group uses location intelligence to make a difference. He explained with an example: "Tijuana has three stores, and two of them are directly across a busy road from each other. We can see that one services people on the way to work, while the other services people on the way home. This affects how we stock the store and when to have employees available. And we monitor constantly, to make sure we're doing the right things. "
That's a great story, and if it was confined to a few stores in one area, it might be argued that a good merchant could figure this out. But the whole point of location intelligence is that it helps retailers make very localized decisions at scale. And that is why in the 2019 report we concluded that "now more than ever – Location is Everything. Whether your current focus is to help minimize the impact of negative shopping experiences, improve offers to customers based on their whereabouts, target personalized messaging to shoppers or optimize store flow and efficiency, one thing is certain: none of this is possible without a technology infrastructure beyond what most retailers have in place. "
The retail industry's interest in the immense value of GIS and location intelligence may be in it's early stages, but I am willing to bet that in coming years Retail will be center stage at the Esri conference.
Newsletter Articles
July 23, 2019