Winners Invest To Be Better Informed
Username: 
Name:  
Membership: Unknown
Status: Unknown
Private: FALSE

						
In our most recent research on the state of online commerce, stark differences arise between how the best-performing retailers (Retail Winners) are approaching the internal roadblocks they inevitably face, particularly when compared to the tactics of average and underperforming retailers.
Winners say they have more available budget, more sponsorship from executives, more road mapping, less perceived risk and more ability to prove ROI quickly. It would certainly appear they are about to pull away from the pack.
However, as with all things, the theoretical does not always line up with the practical. Customer insights, clear strategy and executive alignment are all important to overcoming inhibitors to improving the shopping experience; undeniably the most important factor is investment in new technologies (Figure, below).
Figure 1: It's Gonna Take Money… A Whole Lot Of Spending Money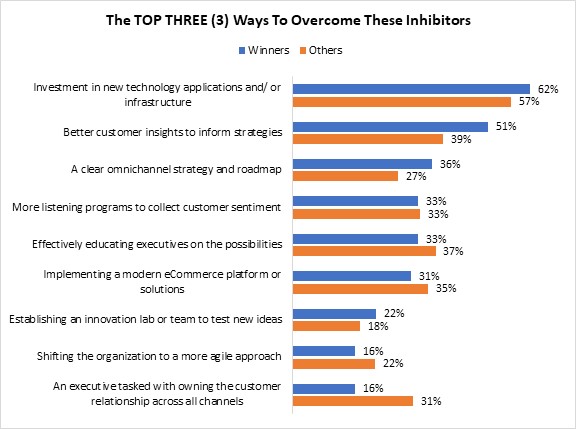 Source: RSR Research, June 2021
The data above in Figure 1 is particularly interesting for two reasons. Firstly, the choice of wording we used in the option most retailers immediately selected could have been construed in different ways. Were some retailers selecting investment in new technology applications and/or infrastructure because of their hope that new technologies would pull them out of their current rut? Very possibly.
In fact, our research often shows that under-performers (in particular) make technology choices as part of their all-too-common silver bullet thinking. Namely, things have gone so poorly for so long that investment in this one shiny new application will be just the thing to finally help them succeed. If you are a frequent student of the retail landscape, you are well aware this strategy rarely works.
But some others may have chosen re-investment for the other part of its and/or possibility: the infrastructure component. Based on what we have previously seen in this report, Winners are much more likely to have chosen this issue exactly because their current progress is being impeded by the inflexibility of their existing infrastructure.
The second reason the performance view of Figure 16 is so interesting, is because of the second most frequently cited Winner selection: More than half of Winners think the key to making better strategic decisions can be determined by better customer insights (compared to 39% of all others). Winners have been collecting more data about their consumers — for longer and in far more interesting ways — than average and under-performing peers. What is the result of having this trove of data? They want more. It is increasingly becoming part and parcel to every strategic business decision they make for their brand, and they have no intention of slowing down.
In fact, the insights Winners glean from their shoppers' behavior have become vital to their third most popular choice, as well: Developing a clear omnichannel strategy and roadmap. It is yet another area where their interest far outstrips that of their competitors.
We hope you take some time to read the full report, available free of charge to all right here.
Newsletter Articles
July 27, 2021