What Can We Make From These Times?
Username: 
Name:  
Membership: Unknown
Status: Unknown
Private: FALSE

						
As Paula notes at the beginning of her article this week, it's hard to even write a typical research report (in this case, on the topic of merchandising), when there's historic "weirdness" all around (in this case, a flotilla of cargo ships hanging out of the West Coast of the US). There's simply far less historical precedent to draw upon.
So when we set out to look at what contactless pickup is – and is going to look like in the coming months, historical performance plays a vital role in retailer perception of the Opportunities that arise. The list ends up being a much longer-than-usual list of challenges pressuring retailers to enact new fulfillment options (Figure 1):
Figure 1: Performance Meets Perception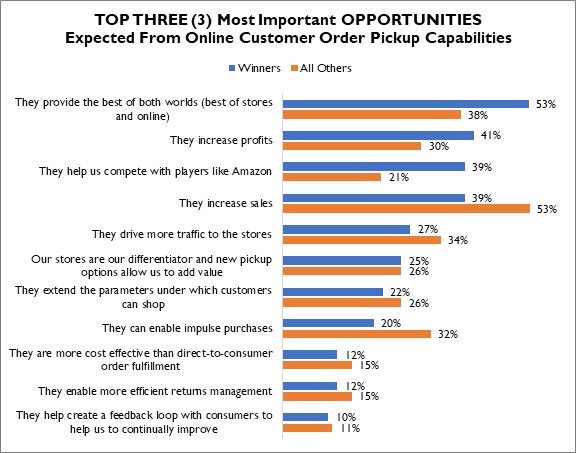 Source: RSR Research, August 2021
Retail Winners understand – at a disproportionate level – that the ability for customers to shop online and pickup their purchases at stores provides the best of both the digital and physical retail worlds. Only 38% of average and lagging retailers seem to "get" this, and instead are more likely to view BOPIS and BOPAC primarily as a way to increase (or prevent the further erosion of) sales.
This is a classic miss on non-Winners' part, and it's indicative of a trend we see time and time again in our research. Laggards tend to look for "magic bullets" to solve their problems. In this case, we've already seen that they don't have the infrastructure required to support new fulfillment options, and that they drastically underestimate the increases in labor costs required to bring them to life. Quite simply: they are ascribing to yet another magic bullet theory.
By way of comparison, Winners, who clearly demonstrate in the full report (What Contactless Shopping Means For The Store) that they have a more solid understanding of what's at stake, are more focused on these new functions' ability to differentiate from competitors like Amazon and to increase profits long term. Winners see these capabilities for what they truly are: a chance to better leverage the digital and physical worlds in ways that are pleasing to consumers.
Perception Continued
It's also important to understand retailers' perception of each of the solutions available to them. Which of the next generation pickup options find most favor? As Figure 2 shows, when combining high value and some value, the answer is "all of the above".
Figure 2: When Everything Is Important, Is Anything Important?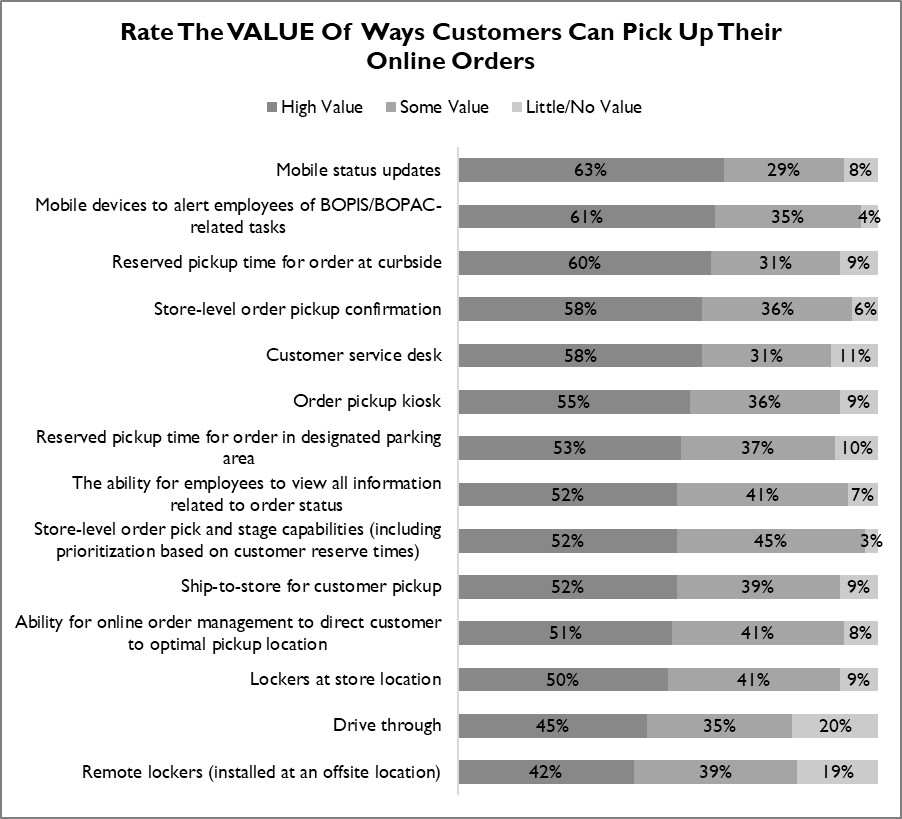 Source: RSR Research, August 2021
Responses like we see in Figure 2 are indicative of two things. One, that whenever a situation emerges in retail that needs immediate attention and requires new (often technically enabled) capabilities – retailers' first reaction is to claim that "everything" is important. But two, the things that bubble to the top of that list will always be either easily-attained, or – more often – projects they are already working on. Everything is important, and so therefore nothing becomes a real priority.
Retailers tend to protect the business models they have built, and that means they are notoriously slow to change, even when the challenges in clinging to those models and opportunities associated with changing them are clear.
Oftentimes, this quality has served retailers well. It has prevented them from spending a lot of money on technology ideas in the news before those ideas were fully fleshed out (RFID, for example).  But in this case, our concern is that their "typical" tendency to exercise an abundance of caution before acting may not be in order. One thing for clear: the world is going to remain unpredictable for the foreseeable future. There is no such thing as "normal". As a result, those who can build in the flexibility to fulfill orders in non-traditional ways will do better.
We hope everyone has the time to read the full report. It is available here.
Newsletter Articles
November 9, 2021