RSR Uncharted: Location Intelligence Could Be A Lifeline For FMCG & GM Retailers

						Username: 
Name:  
Membership: Unknown
Status: Unknown
Private: FALSE
					
In a December 2018 Retail Paradox Weekly blog, RSR made the observation that "all indications are that grocers, convenience store operators, and drug stores, while perhaps last to jump onto the 'Omnichannel' bus, have finally joined in… They now have to battle fierce competition, not just from relative newcomers like Amazon, but also from those Tier-1 operators like Walmart, Target, and Kroger, who have all moved aggressively to address the new competition… Now these retailers are feeling the pressure, and will be compelled to address their top inhibitors, having to do with cultural resistance to the changes that are happening all around them. "
There isn't much question now that those retailers who sell highly replenishable consumer products are racing against time to rethink their physical selling locations in the context of consumers' digitally enabled shopping journeys. Aggressive innovations by giant competitors have crashed through any assumption that consumers have to go to the store to get products cheaply and quickly. And so, FMCG and GM retailers are determined to use the digital domain to enrich the physical shopping experience.
And that's where location data and the analytics that can turn that data into insights come into focus. Last week, RSR published a new benchmark entitled Location Intelligence In Retail: The Value Of 'Where', that examines how retailers view the importance of insights derived from the analysis of geo-location data to address a number of business challenges. As we have seen recently in other benchmark reports, FMCG & GM retailers are actually more enthusiastic about new data analytical capabilities than other retailers, particularly fashion and specialty merchants. There are several reasons why this might be, having to do with the fact that product differentiation is among the most important value drivers in those verticals, whereas for sellers of consumer products, price & convenience are top value drivers – and those attributes of value are under constant strain because of competitors like Dollar General, Walmart, and Amazon.
So FMCG & GM retailers have gotten religion when it comes to creating a more compelling store shopping experience – and geo-location data and analytics could play a vital role. Granting that it's still relatively early days for analysis of geo-location data typically generated by consumer "smart mobile " devices and the insights that can be generated, it is still interesting to see how much more enthusiastic FMCG &GM retailers are than their counterparts in Fashion and Specialty (Figure).
Figure: Enthusiasm Is Sky-High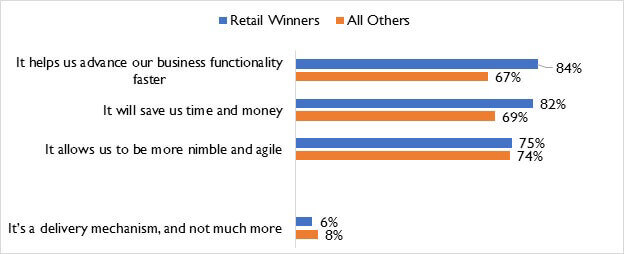 Source: RSR Research, February 2019
RSR has seen in recent benchmarks that retailers that sell highly replenishable "commodity " products are much more interested in localizing store assortments and how those products are presented on the selling floor, and how they should be priced and promoted according to the local markets they serve. Additionally, those retailers are more interested in proximity marketing to consumers – to the point of making the "right " offers to consumers while they are in-aisle. The chart above shows how much more FMCG & GM retailers want to use insights derived from consumer geo-location data to enable those strategies.
Read The Report
Our new benchmark, entitled Location Intelligence In Retail: The Value Of 'Where' , shows how the proliferation of data from mobile devices has ratcheted up retailers' analytic possibilities tremendously. Respondents to this latest benchmark believe consumers now demand a more personalized and curated shopping experience – and that location-based intelligence is what's going to help them provide this experience both inside and inside their stores.
In fact, more than 75% of survey respondents believe location intelligence will help them meet the needs of increasingly mobile shoppers. What else do they say? Read the report to find out!
The report contains:
22 data charts
25 pages of in-depth analysis
7 pragmatic recommendations for all retailers to consider
This report is available FOR FREE to all registered users (registration is required and also free) and is sponsored by Esri.
Newsletter Articles
March 5, 2019