Retail Tech: Who's Driving The Agenda Here?

						Username: 
Name:  
Membership: Unknown
Status: Unknown
Private: FALSE
					
The RSR team has been benchmarking retailer attitudes about the intersection of technology and the business for over fifteen years, and in that time, we're learned to take some things as almost axiomatic. 
The first of these self-evident findings is that over-performers (RSR calls them "Retail Winners") view information – and the technology that collects, manages, and examines it – as a strategic weapon, whereas average and under-performers tend to view it more tactically, to address specific needs.
The second is that retailers (generally speaking) don't like to be the first on the block to adopt any tech that is "brand new" – they vastly prefer to be fast followers (in the best case) instead of technology leaders.  The reason for this has much more to do with the narrow margins that have to work with, than with being anti-innovation.  Simply put, retailers can't afford to make mistakes – their EBITDAs just won't allow for it. This exposes them to the risk of being out-innovated by companies that can afford R&D ('research and development') – companies such as Amazon, which has a web services division that can underwrite experimentation.
The third axiom is that consumers (not retailers) dictate the speed of technology adoption in retail. We have often said that "consumers have more power in their purses and pockets than most retailers have in their stores".  As far back as 2008, a venture capitalist explained to RSR why there wasn't a lot of Silicon Valley money focused directly on the retail vertical. His point was that consumers were driving technology adoption: "We know that customers enjoy researching products, and if you can provide that kind of research and price comparison capability on a mobile basis and with geo-locational capabilities, then a consumer walking by a store or even in a store could be a much better-informed shopper. That may cause the retailers a little bit of a problem! If retailers don't cooperate, they will just lose the customer to someone else."
What all of this seems to say is, that (1) "information" is the coin of the realm, (2) that over-performers are quick to adapt their capabilities to meet new tech-driven challenges and opportunities, and (3) that consumer shopping behaviors demonstrate to retailers what information and which technologies are most valuable.
Are New Techs Being "Applied" Or "Imposed"?
The party not mentioned yet is the technology community. While in hindsight it's apparent that even forward-thinking tech firms were caught off guard by how fast consumers adopted "smart mobile" technologies into their daily lives after the 2007 launch of the Apple iPhone, they quickly caught up and have been pushing "mobile first" ever since. And that has been followed by a succession of new technologies being applied to (or, imposed on?) the retail industry: cloud computing, software-as-a-service, API-driven application designs, "headless" commerce, and AI/ML – just to mention a few. The tech world is speeding up!
The question is, are the tech companies getting too far out in front of the market? Take the subject of AI adoption as an example. AI-enabled analytics have been around for a number of years (since 2015 at least), but it took massive disruptions in the marketplace during a global pandemic to accelerate adoption. And even now,  RSR's latest benchmark on the state of AI adoption in retail shows that it's still early days for the new capabilities at AI creates.
And one of those new AI-enabled capabilities – hyper personalization – might be too far out in front. But tech providers are forging ahead with information-driven capabilities that range from hyper-localizing assortments, price, and promos, to being able to alter the presentation on the website based on an instant assessment of consumers' intent from the moment they begin to search for products, to being able to offer personalized value messages to customers based on where they are standing in a store. 
Retailers are collecting a lot of data about shoppers to make those possibilities real. In a forthcoming RSR benchmark about challenges and opportunities related to the customer experience, here's what retailers tell us they are already collecting (Figure 1):
Figure 1: Digital Clues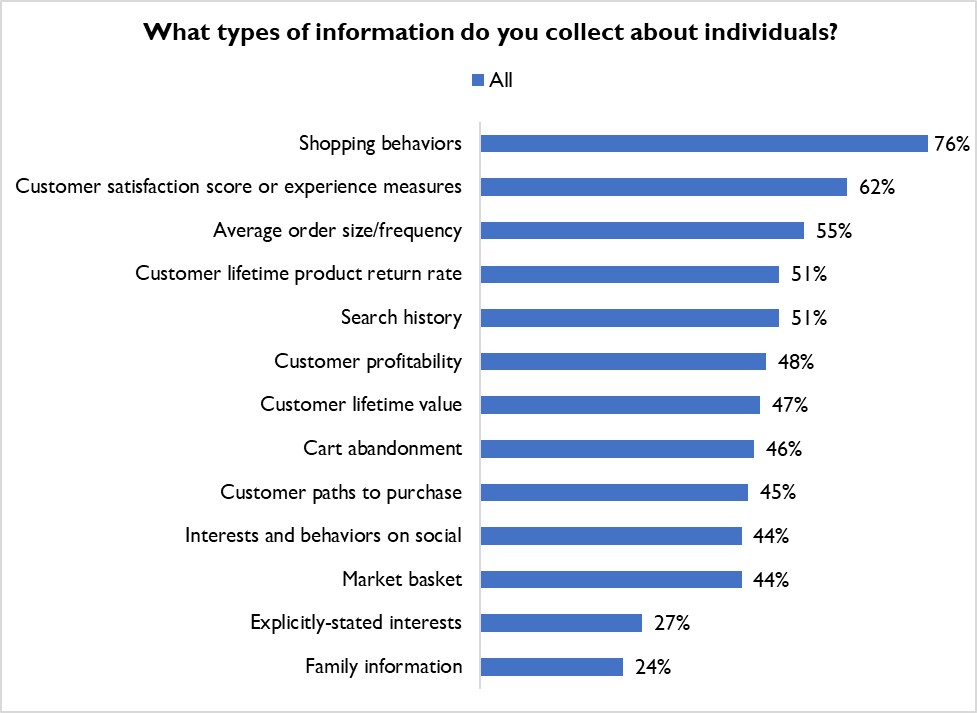 (RSR Research, October 2022)
Retailers hope to use that information to personalize the shopping experience in the digital domain, to deliver incentives in the form of coupons (both digital and physical), proximity marketing messages, and post-sales communications, as well as to help develop localized assortments and promotions.   
The question is, is that what consumers want? Well, we asked 1100 consumers, and here's what we discovered (Figure 2). 
Figure 2: It's Not Rocket Science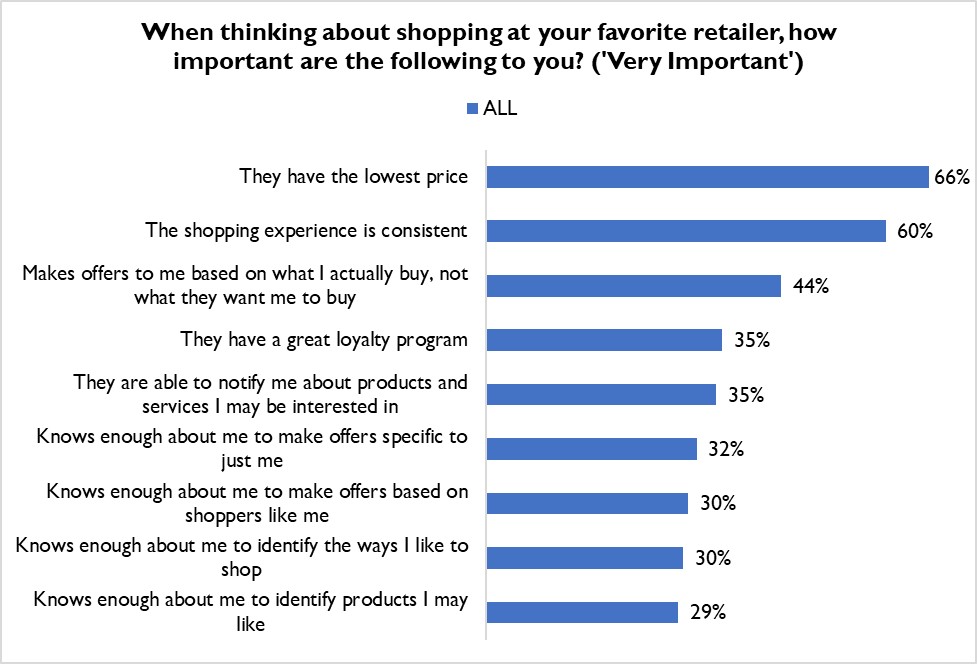 (RSR Research, October 2022)
Consumers favor retailers that offer the lowest price and a consistent experience – by far. And what do consumers want from all retailers? No surprise! Good prices, rewards for loyalty, and a seamless experience across the digital and physical selling environments (Figure 3).
Figure 3: Not Hard To Understand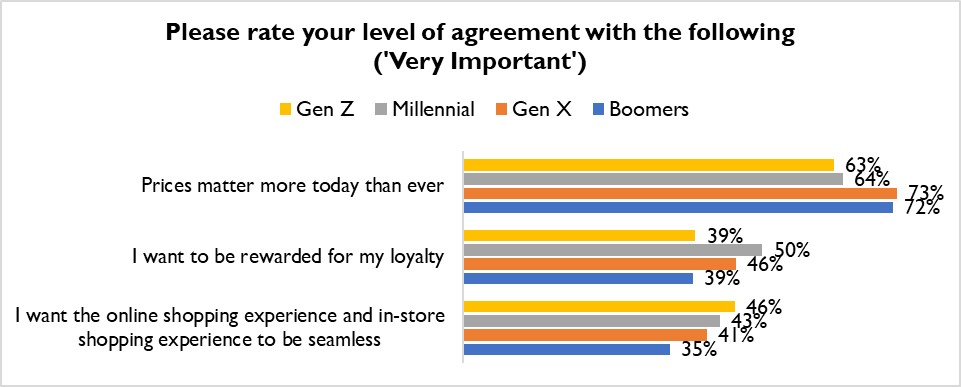 (RSR Research, October 2022)
What Are Consumers Telling Us?
If we accept it that "consumer shopping behaviors demonstrate to retailers what information and which technologies are most valuable", then the guidance they are offering now is that consistent execution is more important than innovation. That's not necessarily exciting for either retailers or their technology partners, but consumers of all ages are surprisingly consistent: they want to find what they are looking for and they want a fair price, and to be able to count on their favored retailers to consistently deliver.
Do retailers need leading edge technologies to do those things?  Not necessarily. Those consumer objectives are no different than they've ever been.  What has changed is the speed with which conditions in the marketplace change, the wealth of choices that consumers have at their disposal, and the new generation of hyper-aggressive competitors fighting for ever last dollar.
Dealing with those things might very well require the new generation of techs, but consumers want the same things they've always wanted. And so, it's time for tech companies (and pundits, analysts, and prognosticators!) to prioritize execution over innovation.
That's the guidance that consumers are giving us.
Newsletter Articles
October 20, 2022