Post-Covid? Mid-Covid? Either Way It's An Entirely New Landscape Online
Username: 
Name:  
Membership: Unknown
Status: Unknown
Private: FALSE

						
The ongoing pandemic means retailers face lingering amounts of uncertainty for months and potentially years to come. In our most recent published work, Retail eCommerce in Context: The Next Iteration, retailers tell us know that if they want to survive, they need to completely reinvent the shopping experience. This means making the act of buying goods – however and wherever the customer pleases – be done as safely, quickly, and conveniently as possible.
This may be a permanent after-effect of the pandemic. Having discovered more convenient ways to get shopping done, consumers may well sustain these shopping behaviors in favor of a return to in-store shopping.
Figure 1: Shopping, Evolved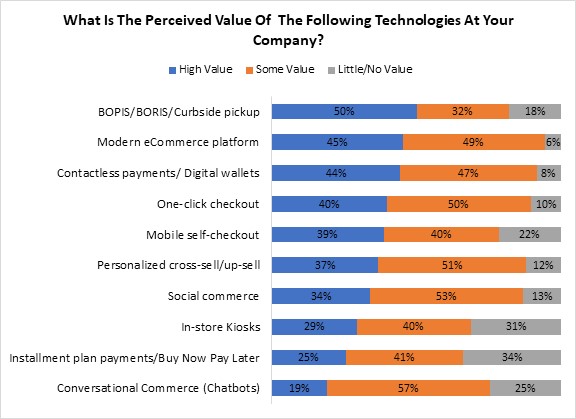 Source: RSR Research, June 2021
Had retailers been left to their own devices, many of these technologies would have enjoyed a slow rise in usage. In fact, just a short time ago, many were perceived as only nice to have. But the events of the past year have brought expectations of contactless and preferred payment methods, as well as one-click checkout to the forefront. Over 90% of respondents see value in these capabilities (Figure 1). Moreover, one out of every two retailers now view BOPIS/BORIS/Curbside pickup as a high value capability, and foundational for continued shopper convenience. And yet when it comes to deployment, a slightly different picture emerges.
Stalled
At the aggregate level, we can see retailers' usage of these technologies is somewhat in line with the value that retailers assign to them. Roughly four out of 10 retailers have implemented – and are happy with their solutions – curbside pickup, contactless payments, and their overall ecommerce platform. But given what we saw in Figure 1, implementation and budgeting for high value technologies trails behind.
Figure 2: The Picture Takes Shape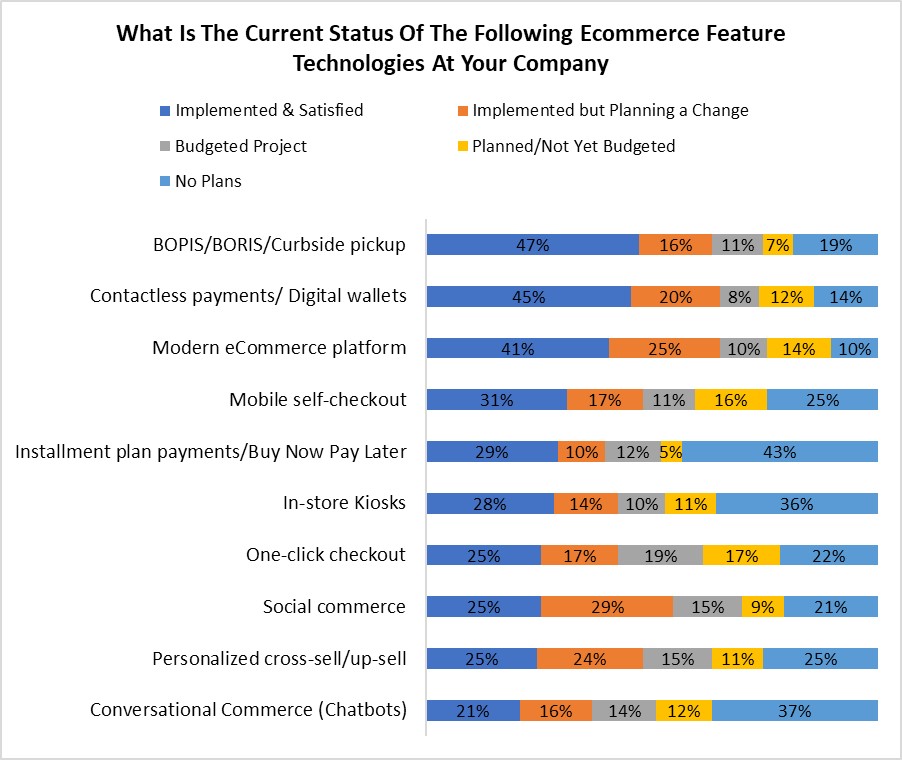 Source: RSR Research, June 2021
It is only once we couple the statistics above in red (implemented but planning a change) with those in green (budgeted projects), that the picture begins to take its true shape. Retailers have toyed with many of these technologies in the past, but those experiments were conducted at a time when they were not make-or-break solutions. Contactless payments in 2018? Interesting. In 2021? Absolutely vital. So much so that 20% of retailers that have implemented them are looking to evolve and make changes.
We very rarely see such high unsatisfied statistics. When combined with the eight percent who have never even attempted contactless before, that means one in four retailers are committed to solving that issue in the coming months. Plus, another 12% say they are currently in the planning stages. Social commerce, personalized selling, the ability to leverage IoT-enabled devices all follow a similar pattern: It was fun to noodle around with these ideas, now we need to either ditch what we have, get some capital together to get going, or at the very least, establish a plan for how we can catch up.
In short, the days of experimentation are over. These technologies need to become a de-facto part of the shopping experience for retailers so they can reach the shoppers who want to use them immediately.
If you haven't had the chance yet, you should read the full report, including the recommendations we offer up based on everying we've learned from what our retail respondents were willing to share.
Newsletter Articles
August 3, 2021