A Slightly Different Take On Amazon Go

						Username: 
Name:  
Membership: Unknown
Status: Unknown
Private: FALSE
					
Like many retail industry pundits, analysts, and observers, I recently made my way to the Amazon Go store in downtown Seattle while I was in the Emerald City on business. Of course, the Amazon Go store has been a big-buzz item since its announcement in December 2016, and I got my first peak through the window last summer, when the store was only open for Amazon employees. In January, the doors opened to the public, prompting my visit.
Here's a summation of the experience, and a few observations. I accompanied an industry colleague (and Seattle resident) who had already loaded the Amazon Go app onto her iPhone. The app features a simple tutorial on how to use it to check into the store and shop, for example, explaining how an item is added to or removed from your virtual cart and how you check out. To get going, you link the app to your Amazon account and identify which of the payment methods that you have on file will be used for Amazon Go purchases. Then you're on your way; the app displays your "scan key ", which can be used to go through the entry kiosk at the store.
Shoppers use the same scan key for family members or friends who are tagging along (in my case, my colleague scanned me in, then scanned herself in). Anything that a shopper's guest picks up while in the store gets added to the virtual cart. I was thinking about the "profit opportunities " that might be unleashed by bringing a small child into the store (at the company where I was the CIO, store managers often put the candy down low where the kids could grab it, knowing full well that if it ended up in the basket, Mom would probably just buy it. Manipulative? You bet! Profitable? Sure!). In theory, bringing a small family member into the store might result in unintended sales after Junior has stuffed his pocket with sugary treats. As a practical matter it's probably not much of an issue just yet, since the first Amazon Go store is in an urban job center, i.e. a place for workers to go to grab a quick lunch. But the "host " consumer doesn't know until she gets the receipt (which we'll get to in a minute).
The Seattle store has a small footprint, really not any bigger than what you might find at a fuel & convenience store. It's full of ready-to-consume food items (and here's something interesting: it had a couple of shelves of Whole Foods private label brand "365 " products – a sign of greater integration of the Whole Foods brand with Amazon). The store reminds me somewhat of a Marks & Spencer Simply Food store in the UK. Like Simply Food, the Amazon Go concept is focused on urban workers (the 2nd Amazon Go store is slated to open in Bellevue, Washington – home of Microsoft and many satellite tech companies).
One of the misconceptions that I had going into the store is that there wouldn't be too many store employees. In fact, there were so many that they got in the way. Part of that was because there were helpers on both sides of the entry kiosk, assisting new customers to get in and out of the store. There were more inside the store, handing out complimentary shopping bags to shoppers once they were in, and answering questions from retail nerds like me. But even assuming that all those helpers disappeared, there were still several replenishment staff constantly refilling the shelves. Back to the fuel & convenience comparison: in those stores, you're lucky to find more than a couple of employees – so Amazon Go certainly isn't scrimping on the labor spend!
Figure 1: Technology, A Strong Brand, and People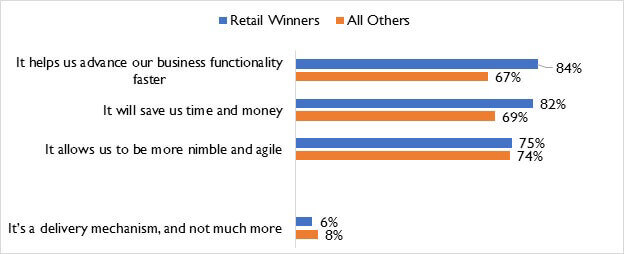 Once you are finished shopping, you simply walk out through the kiosk. About 10 minutes after leaving the store, an electronic receipt is delivered via email. And this is the biggest practical concern I have for Amazon Go shoppers; some people may want to inspect what's in their virtual cart while they are still in the store to ensure that it matches what's in the bag or perhaps because the shopper is on a budget. That's not possible right now, and in fact a shopper won't know until several minutes after-the-fact.
As to the technology that is used to determine what you put into your shopping bag, the store employee that I asked could not share details (company rules, apparently). All he could say was that there are cameras in the ceiling. As to that, I can say is that there is a LOT of technology in the ceiling – and I would guess there's far more of it behind the store walls. I suspect that the gross margins of items sold at the Amazon Go store aren't all that different than any other food store, and the labor ratio to sales is likely to be higher, not lower, because of the number of employees working in a pretty small box. I'm guessing that the expenses associated with the technology are also higher, and so it leaves me to wonder how this store will ever be profitable.
But maybe Amazon doesn't care about that. There are differing opinions about what the point of the Amazon Go store really is. Back in 2016, I opined in a Retail Paradox Weekly column that, "Amazon seems to have learned how to use the media in particular to direct the conversation to what it wants to talk about … But there's a more important lesson to be learned, and retailers can't ignore it while reacting to whatever media bomb the Seattle giant throws into the crowd. That is, Amazon embraces technology – and it is not afraid to fail. Those are two ideas that most retailers still haven't embraced, and they ignore them at their peril. "
There's certainly an experimental vibe to the Amazon Go store, since the retailer is applying a lot of technology to figuring out how to enable realtime and accurate visibility to inventory at the store shelf and sending replenishment instructions to employees on an as-needed basis. Whatever the technologies being used are, I haven't seen anything like it anywhere else.
But what strikes me most about the store is the absence of a POS checkout stand. I've said in speeches around the world that "as long as ''scan-and-bag' is an operational requirement, there will be a POS system of some kind at a checkout stand. " But there is no scan-and-bag at the Amazon Go store! That seems to me to be the real innovation. This may be the biggest contribution to the industry's thinking about the future store. Imagine a Whole Foods store without a scan-and-bag requirement, no stationery checkstand and no visible POS.
Seems unlikely? Don't be too sure of that- and if it does occur, think how that would suddenly increase the barriers to successfully compete in the food & drug, general merchandising, and convenience verticals. That's a big chunk of the retail business! And perhaps that's the real point of Amazon's experiment – to change the parameters that define a successful store operator.
Newsletter Articles
March 27, 2018