Where's My Stuff?: Supply Chain Visibility Rises To The Top Of Challenges

						Username: 
Name:  
Membership: Unknown
Status: Unknown
Private: FALSE
					
RSR Partner Paula Rosenblum has recently commented about the slowdowns in the supply chain and some of its consequences; as she points out, what the industry is dealing with is a supply & demand problem – except the supply in question is shipping containers. On the demand side, retailers are ordering products in record quantities because consumers are spending more money on "things" in lieu of services such as dinners out on the town. MasterCard SpendingPulse (which measures overall retail sales across all payment types) estimates that consumer holiday spending will far exceed pre-pandemic numbers (chart):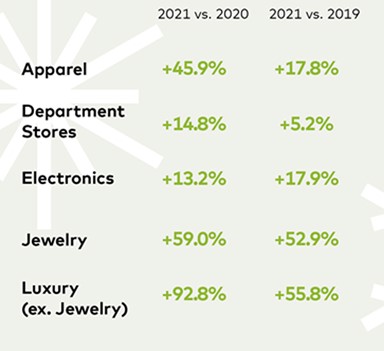 The challenge that is worrying retailers is that backlogged imports at some of the U.S.'s major ports could undercut a promising holiday season. On September 24, the Washington Post reported that, "The mismatch between surging import volumes and an overwhelmed transport network is dogging the recovery… Retailers' inventories are near a 30-year low and toymakers are urging consumers to shop months early for holiday gifts." This is so serious that, "the Biden administration is struggling to ease congestion in the nation's freight system, as mounting backlogs threaten to dash the president's hopes for a smooth economic recovery with higher prices and spot product shortages… <Additionally> sluggish freight channels also are fueling inflation."
Essentially retailers are demanding to know, "where's my stuff?" The unsatisfying response they are getting back is, "it's in the supply chain." What amazes me is how often I hear a neighbor or a friend comment on "the supply chain". Why would something like that be a topic for coffee shop conversation? Well…it's probably due to limitations retailers put on the quantity of a product that a consumer can buy. For example, last week U.S. retailer Costco limited purchases of toilet paper and cleaning supplies (NPR, 9/24/21).
Let's Have Some Visibility, Please!
This issue is forcing retailers, their trading partners, and logistics companies that operate in between them to begin to seriously address the need for greater visibility with the supply chain itself, as a prerequisite for addressing the overarching need for greater agility. The fact that this is an issue right now is closely correlated to the reasons why retailers sought to address customer omnichannel order fulfillment challenges in 2020. In short, it's because consumers are pushing them. While retailers have told RSR for years that "real time visibility into the supply chain" is a high-value opportunity, they may have thought they would have more time to deal with it. They don't now.
The good news is that there are good technology solutions that can get retailers and their trading partners into a better position. It's all a question of priorities, but for retailers the issue is fast becoming top-of-mind. For example, in a forthcoming RSR benchmark on the state of the supply chain, fashion & specialty retailers identify "real-time and accurate visibility throughout the supply chain to better control timing and cost" as the #1 opportunity to be addressed with an "AI-enabled supply chain". And the top opportunity for fast-moving-consumer-goods companies (grocers, drug stores, and convenience stores) is closely related: "use predictive models to anticipate supply chain disruptions at the individual SKU level and recommend cost-optimized corrective actions".
Are technology companies ready to address the opportunities? The short answer is, "yes", and "what took you so long?" While the global Internet-of-Things (IoT) market in the logistics market attained a value of $35B by 2019, it is now predicted to rise to over $100B by 2030, according to one study (BusinessWire, November 27, 2020). The vast majority of that spending will happen in the U.S. logistics market, in part to address "efficient management of warehousing and inventory, quick delivery of goods, internal business processes automation, quality of goods, and safe storage….".
While creating visibility inside the theoretical four walls of the retail enterprise is important, that still doesn't address visibility for in-transit goods. But that may be the biggest opportunity for IoT solutions. Another study pointed out that, "Roadways <is> the largest category in the market …in terms of the mode of transportation… This is buoyed by the fact that North America, led by the U.S., is the largest IoT in logistics market in the world, and in the country, around 80% of the logistics activities are carried out through roadways. Similarly, in Europe, around 88% of the logistics activities are carried out via roadways, which further contributes toward the dominance of the category."
But what about processing at the ports? The Harbor Association (a Southern California trade association that serves harbor business communities on issues related to trade, transportation, energy, environmental and land-use) recently expressed enthusiasm for the promise of IoT: "Today, drayage is seen as a 'black hole' within the supply chain…. Inefficient drayage makes it more difficult and resource-intensive to locate cargo and get it out of port, nearby warehouses, or intermodal transit networks, and drayage operations, visibility and efficiency suffer…. Advance tracking allows drayage firms to anticipate and make resources available to process cargo when a container ship comes into port. Processes can be done quickly using IoT devices to expedite unloading and to document and collect essential data… 'smart containers' close the gap knowledge gap by allowing for real time monitoring of cargo location, internal conditions, and overall physical integrity from anywhere."
What About The 2021 Holiday Season?
Meanwhile, in the short term business operators are starting to panic. While digitalization of supply chains is absolutely the best available way to address the need for greater supply chain agility, it could take years to accomplish. So what to do? As Paula declared in her August 31st column, "Now we must put the pressure on those who transport our goods to push the 'go faster' button."
Somebody must be listening. Last month the Biden administration brought together port operators, shipping companies, labor unions and multimodal transport providers, to speed up throughput at LA and Long Beach ports. The result? The ports of Los Angeles and Long Beach (through which over 40% of all imported goods to the U.S. flow) are making moves to improve freight movement and reduce delays to container throughput. Both ports are expanding hours of service during which trucks can pick up and return containers.
Maybe you're as surprised as I was that it takes the president of the United States to get involved parties to move towards 24X7 operation at a time of unprecedented demand. But that's what's happening. Let's all hope that the backlog gets cleared in time to save the season, because time is a luxury the economy doesn't have and can't buy.
Newsletter Articles
September 28, 2021