What Has To Happen In Front Of The Buy Button
Username: 
Name:  
Membership: Unknown
Status: Unknown
Private: FALSE

						
The year 2020 will be remembered primarily as "the year of the pandemic", a kind of headline summary for a period of tumultuous change across the entire globe. In a way, what's happening now is not unlike what happened after the Great Plague of 1665-66 in England. That disaster triggered a period of rapid change – the Age of Reason.
Are we headed for a new Age of Reason? Who knows? The RSR team will leave most of that to social scientists to ponder. Our mission is to help retailers, their trading partners, and the tech companies that support them to understand how changes in consumer behaviors are affecting them. In that context, I can't think of any change that has been bigger than the near total acceptance of the concept of digitally enabled consumer shopping journeys, and the impact that that has had on retailers' internal systems and processes.
I was standing in a line in front of a drug store this weekend, as people were waiting for their turn to get COVID vaccinations. A conversation broke out among several of the "grey hairs" (no disparagement intended! My own head looks like a grey rag mop). The discussion was about how no one in the line had "ever" visited this particular store. "Why would I?", said one woman, "I just go online and get my prescriptions delivered". This elicited several nods of approval, and that was followed by a discussion about which grocer has the best buy-online-pickup-instore feature. I will point out this this group belongs to a demographic that would not usually be called "fast adopters".
In a consumer study that RSR conducted in March 2020, we learned that what had once been a differentiator has become a necessity: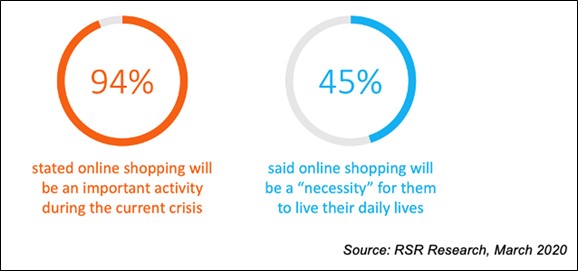 Of course, like most sweeping changes, this didn't really happen "all of a sudden" at all! RSR and others have been writing about the dynamics of this change since this century's first decade.
If you're familiar with RSR's benchmark studies, you know that we separate out the attitudes and behaviors of over-performers ("Retail Winners") from others, because they usually see and react to changes much earlier than average or under-performers do. For example, in a forthcoming benchmark study on the subject of how retailers are responding to disruptive marketplace changes with improved speed and adaptability, we find that "Winners" are thinking opportunistically about marketplace challenges, whereas others are threatened by them:
 Source: RSR Research, February 2021
In Front Of The Buy Button
Retailers' attention is turning towards what has to happen in order for today's consumer to be able to reliably commit to buy something. For years, RSR has been writing about the need to inform the online shopping experience with accurate customer-specific and product info, and (fundamentally) the need for accurate real-time info about available-to-sell inventory. "Real-time inventory visibility" in particular is still being redefined by consumer expectations. Now, that is not limited to the location, on-hand count, and attributes such as size, color, and fit. Consumers also want to know "precisely when can I get it?" and "how can I get it?", before pushing the "buy" button.
To be able to answer those new questions, retailers at a fulfillment location (most likely the store) need to know what's on a customer order, when to perform the pick and who will perform the task, what the picking order is, when the customer will arrive to pick the order up, and (potentially) what parking stall the customer will be waiting in. Think of the integrations that have to happen for that to happen!
But the underlying problem standing in the way of enabling an integrated approach to these things is that the systems most retailers have in place were never designed to be customer-facing components of the selling environment. But these capabilities are must-haves for today's shopping environment. Consumers now expect retailers' digital selling systems to accurately present available-to-sell inventory. And beyond that, consumers now expect the retailer to show which pickup and delivery options are available, and to how and when the consumer can either pick up the fulfilled order or expect it to be delivered.
The RSR team is turning its attention to how all the pieces of retailers' people/process/technology operational models need to integrate in a harmonious way to meet the challenges created by consumer acceptance of the new selling model. We'll be looking at the new supply chain, contactless selling and the store, managing the workforce, new challenges and opportunities in merchandising, and the new importance of social responsibility in retail, all in an effort to understand the 2021 version of new age of the reason for retail.
Newsletter Articles
February 15, 2021