What Do Realistic Expectations For The Internet Of Things Look Like?
Username: 
Name:  
Membership: Unknown
Status: Unknown
Private: FALSE

						
In our most recent research on the Internet of Things, we found out something pretty fascinating: the bigger a retailer is, the greater the enthusiasm is in IoT's ability to help create a differentiated shopping experience.
But there's a danger in that enthusiasm; without more specificity, big retailers may be viewing the potential of IoT technologies with unrealistic demands. IoT technologies hold tremendous possibility – but they are still just tools. Salvation cannot come in the form of the tool, but from a series of strategic and brand-conscious decisions and changes to innovate and adapt, all while using those tools effectively.
So what can IoT really do?
We get a much more pragmatic perspective when we asked retailers to identify the top operational challenges that IoT can help them address (Figure, below). Winners want to better understand the relationship between digital and physical customer shopping behaviors, Winners also rightly believe that IoT technologies can help them achieve better visibility to where available-to-sell inventory is within the enterprise – and how they can best meet omnichannel demand.
The differences in the weight that Winners and others put on "visibility " vs. "accuracy " is important. RSR has long held that real-time visibility AND accuracy is essential for success in the omnichannel world. We've seen in other studies that Winners have made real progress in improving inventory accuracy; average and under-performers evidently still have a long way to go, and hope that IoT technologies will help them achieve that elusive goal.
Winners have the more nuanced viewpoint. It's not just that they want a more reliable inventory count – they recognize the challenge to fulfill omnichannel demands immediately. It's a key part of how they think they can differentiate from their competitors, which we also know from previous charts is at the forefront of how they are approaching all of their IoT-related initiatives.
Figure: Winners Want To Learn About Customers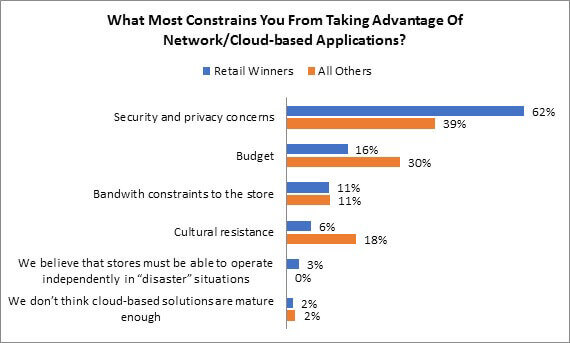 Source: RSR Research, October 2018
We invite you to read the full report, which is available here.
Newsletter Articles
December 11, 2018