What Could Tomorrow Look Like In Stores?

						Username: 
Name:  
Membership: Unknown
Status: Unknown
Private: FALSE
					
In our recently released report on the state of the store, retailers were clear as a bell: physical stores really do have a here-and-now opportunity to become a critical component of differentiation from Amazon.com. The question immediately becomes: how?
Right off the bat, our respondents told us they need to make stores more of a destination than they currently are. Great! But when further probed about what could help to stores achieve this feat, retailers point to a world where consumers' smartphones serve as a conduit for more direct interaction (Figure 1).
Figure 1: The Smartphone As Uniter?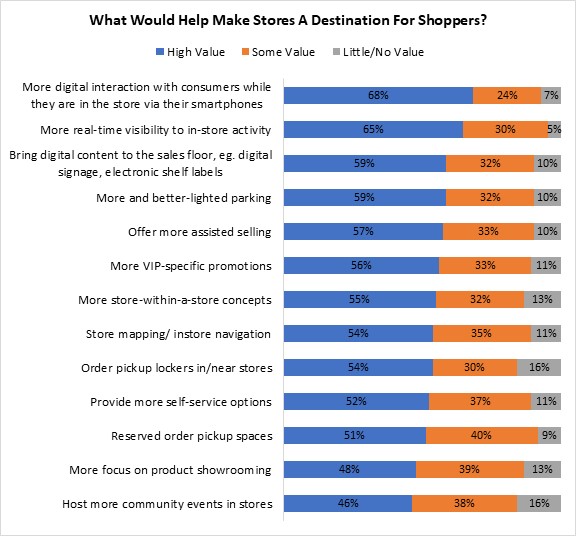 Source: RSR Research, August 2022
What makes this data so intriguing is how starkly different this potential reality varies from what "traditional" stores are actually like. Since the advent of mobile smart devices, consumers have essentially used them to distance themselves from brands – particularly in stores.
In fact, in one survey after another, whether on the topic of the Store or the Retail Workforce, consumers indicate that they'd much rather pull out their phone while shopping (to get product details, availability, pricing, reviews, etc.). In fact, elsewhere in this full report, retailers tell us they know this to be true.
The fact that 93% of our response pool believes that these very same smartphones – essentially the tool that creates an alternative to shopping in stores today – will become the catalyst that brings the store back into the fight, is astounding. Is it optimistic? When we consider where they are exerting their efforts, to date, it certainly seems so.
Safe Bets
As we have just seen, the retailers who've responded to our study tell us that they plan to utilize consumers' personal devices to make the shopping experience more engaging, and stores more of a destination than they currently are.
It is therefore disappointing to see how they self-assess their efforts to date (Figure 2) – clearly, retailers have been focused on other priorities.
Figure 2: Safe Bets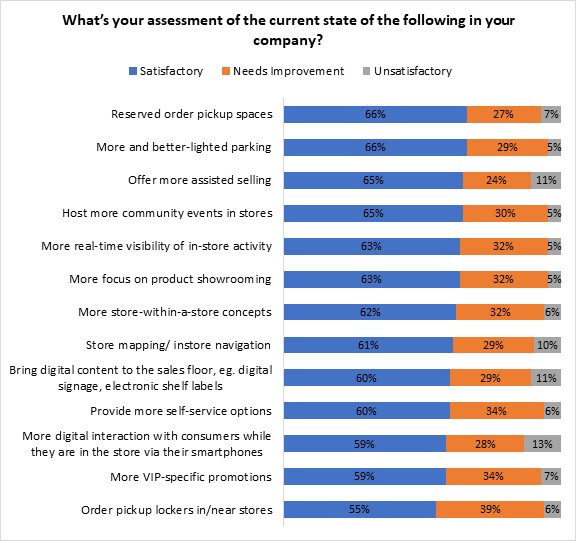 Source: RSR Research, August 2022
Retailers have done a very good job meeting baseline expectations for omnichannel shoppers: designating parking spaces for online order pickup, setting aside spaces in store for the same (most often just double-tasking the customer service desk), and making sure their parking lots are well-lit. These tasks are safe bets, but at the end of the day, will not be enough to keep shoppers from clicking "place order" in their Amazon Prime shopping cart.
The full report goes on to show exactly how the best performers – Retail Winners – are picking up the slack. It's free. Check it out.
Newsletter Articles
October 11, 2022