Uncharted Data: The Problem With Online Customer Acquisition…

						Username: 
Name:  
Membership: Unknown
Status: Unknown
Private: FALSE
					
If you've read our recent eCommerce report, Winning At Customer Acquisition In The Digital Shopping Age, you found yourself deep into a 23 page report with 24 charts – each with a lot of written analysis. That's the upper limit of how many charts we include in a single report (a person can only ingest so much in one sitting), but it doesn't mean that's all the data we collected.
Far from it. Our typical surveys are at about 25 questions long, and the data each question produces can be looked at from multiple angles: in aggregate, or by how retailers' responses vary by the products they sell, their revenue band, their sales performance, or in many cases – by how those answers vary from last year's data. It can become quite overwhelming, so part of our job is to pick the data that is best suited for the report, and dozens of charts end up on the cutting room floor.
Hence our uncharted series. Compelling bits of data that just narrowly got cut from the report. Think of them as the singles that didn't make the album. Consider the following:
Uncharted: The Problem Is…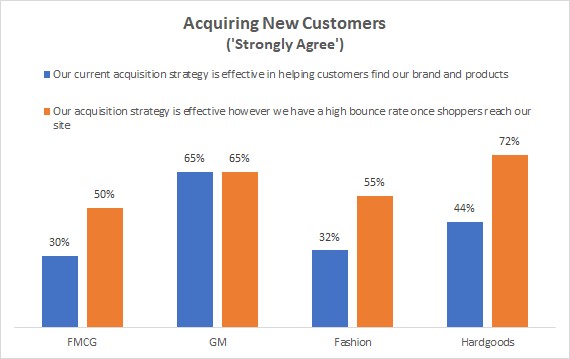 In the full report, we look at the aggregate data, and we call out that ALL retailers are in a pickle when it comes to customer acquisition. Most have an issue with bounce rates (explored in detail in the full report) and retailers are, en masse, painfully aware of how much of an issue it has become. Throughout the report they continually tell us that they know they aren't meeting customer expectations, nor do they feel they have the freedom in these sink-or-swim times to experiment with new ideas. Amazon is more than happy to pick up the pieces of their shortcomings, and they know it.
But when we look at this uncharted data, above, it becomes abundantly clear that General Merchants are the only ones even remotely confident in their ability to target new shoppers where and how those consumers live. They still have an inordinately high level of bounces once a shopper lands on their site, but at least they feel effective in helping customers find their brand and products in the first place. Nearly 2 out of 3 (65%) say they can rely on their current acquisition strategy as a way to touch new shoppers – no other segment product segment even comes close. Less than half of those selling hard goods are confident that their current strategy can effectively find new shoppers, and that number falls to less than 1 in 3 for fashion and FMCG retailers.
This is a problem. The fact retailers can't rely on their sites to perform properly once customers are there only makes it worse. We invite you to read the full report, which has suggestions on ways all retailers can improve, by following this link. The report is completely free.
Newsletter Articles
March 15, 2022