The Thing About Stores Is…

						Username: 
Name:  
Membership: Unknown
Status: Unknown
Private: FALSE
					
RSR recently celebrated its 15-year anniversary, and we've seen a thing or two in that time. Since our inception, just here in the U.S. we've borne witness to a major financial and housing market collapse, a period of unprecedented stock market growth, 2 wars, 3 presidents, a pandemic, and perhaps most importantly of all: the introduction of the iPhone.
If that seems like an odd thing to call "most important," consider that smartphones have completely rewired the thinking processes, daily habits and social behaviors of nearly 85% of the earth's population, with 6.6 billion estimated smartphone users in the world as of the time of this writing. For most of us, this means that there's a technical device that is semi-permanently attached to our bodies that plays a vital role in virtually every part of our lives: the device tells us where to go and what to do when we get there. The contents of its screen trigger our emotions and reward systems, and is now involved in virtually every single purchase that we make.
To say that always-connected mobile technology has changed how people shop is an understatement. How does widespread mobile technology adoption affect the store? Since RSR's inception, there has not been a single year since 2007 when we have not studied the "state of the store." But this year's report is especially interesting since it follows a period of big changes in how consumers shop.
During a time when visiting stores was not an option, consumers switched to eCommerce – and Amazon.com, in particular – far more quickly than would have ever occurred without the pandemic. History teaches us that once humans are exposed to a particular convenience, it is nearly impossible to take it away. That dynamic is true in this case. But in consumers' digitally enabled shopping journeys, many people's "default mode" when shopping has become "let's just order it on Amazon" – no matter what type of product the particular item may be.
But one other thing that the COVID-19 lockdown brought to light was just how much people need to get out of their homes and to interact with one another, with their surroundings, and yes – with products. One of the greatest surprises revealed to many in 2020 and 2021 was just how much people missed stores. Shopping in stores is part of the human experience.
For many retailers, this has been something of a revelation – or at the very least, affirmation that there's an opportunity to leverage the one thing that Amazon doesn't yet have. Stores. Past years' RSR benchmarks have delved into how retailers are using their stores to differentiate from demand aggregators and Ecommerce pureplays like Amazon.com. After the global shutdown during the COVID-19 pandemic, that kind of differentiation has moved from important to an imperative.
Physical stores have a here-and-now opportunity to continue to evolve as a critical component of differentiation from Ecommerce pureplays. The best will find ways to achieve that very thing. Those not taking risks will not be around to lament their inaction.
This year's report, What Can Retailers Do In Store That Amazon Still Can't? seeks to find the ways that thoughtful retailers can be the former. The following is the very first finding from that benchmark.  
What 'Today' Looks Like
The very first thing we asked our retail respondents is to rate their level of agreement to certain "hot button" sentiments. Figure 1 lets us know where they stand.
Figure 1: The World As We Now Know It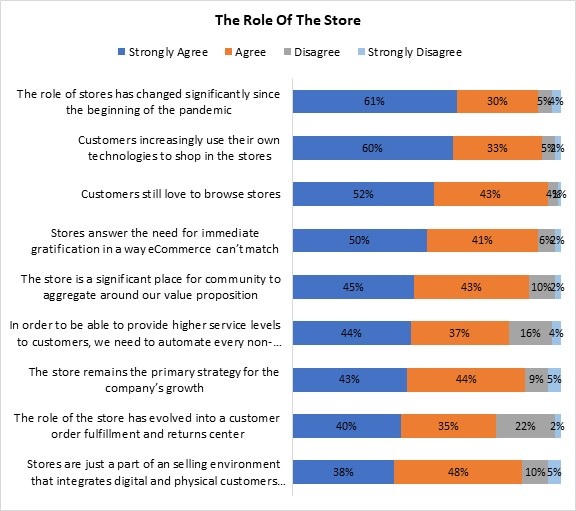 Source: RSR Research, August 2022
While the full report is full of revealing data points, Figure 1 serves as a snapshot of where we are as an industry. And the very first line sets the stage: 91% of retailers agree that the role of the store has changed significantly since the beginning of the COVID-19 pandemic.
This is a big deal.
However, when we move down through the chart and continue to combine "agree" and "strongly agree", there are only two sentiments that score higher:
Ninety three percent of retailers say that customers are increasingly using their own technology (their semi-permanently attached smartphones) while shopping in stores.
Line 3 in Figure 1, though, is where the heart and soul of our retail paradox culminates. It highlights why store-based retailers can and will continue to compete in what is rapidly becoming Amazon's world: 95% of retailers say customers still love to browse stores. And they are right. We know this because consumers tell us so in our surveys on customer sentiment.
From a place for community to meet to a place where online orders can be returned – and everything in between – all of these things serve great purpose for retailers AND consumers alike. But it is the fact that consumers still love to browse stores which cannot be overstated, and that data validates the entirety of the entire report. If you haven't yet had a chance to read it yet, we strongly recommend that you check it out.
Newsletter Articles
September 27, 2022