The Rapidly Evolving Importance Of Location Intelligence In Retail

						Username: 
Name:  
Membership: Unknown
Status: Unknown
Private: FALSE
					
Location has always been a key element of the retail value equation, to the point where it is embodied in an old industry truism: "the three most important properties of a retail store are location, location, and location." Retailers have used location information since "forever" to find the best places to build their stores and distribution centers. But the information used was static and only updated very occasionally, for example, population demographics from census data, neighborhood development plans, city and county traffic analyses, etc.
Location data (beyond a customer's address) certainly wasn't an attribute of customer information. Frankly, as long as consumers had to go to stores to do their shopping, who they were and where they came from wasn't nearly as important as what, where, and when they bought it. All that changed with omnichannel retailing. And now, as retailers try to position themselves for a post-pandemic environment, they are learning that to successfully evolve they need to be able to react quickly to both shifting consumer shopping behaviors as well as changes in how products get to market. Both supply (products) and demand (consumers) are in-motion all the time.
To bring them together, businesses need to see people, assets, and processes in real time – and to be able to analyze what they've uncovered to improve both strategic and operational decision-making. And that's where location data and the insights that can be derived from it become really important. Whether you call the movement towards that kind of visibility "digital transformation", "digital twins", "location intelligence" or something else, the ability to capture dynamic location data from people, processes, and things, and the analytics needed to make sense of it, it has become a barrier to competition.
To say that retailers' understanding of the importance of location intelligence is rapidly evolving is an understatement. In the four years that RSR has benchmarked retailer attitudes about the promise of location data and analytics, they have changed dramatically from enthusiastic naiveté about micro-marketing all the way to a belief that they are essential to achieving sustainable growth, greater operational effectiveness, and more resilience in a risky marketplace. This more mature point-of-view was already observable by March 2020 among over-performers ("Retail Winners" in RSR's parlance), but the pandemic acted as an accelerant to retailers' efforts to address them.
RSR's latest benchmark report on the subject, Creating Competitive Advantage With Location-Aware Processes, reveals that leading retailers are moving quickly to take advantage of what location analytics can bring to the table – but it is still very early days for the adoption of both the data and new analytical capabilities. Still, retailers increasingly stress that informing operational decision-making with geo-location intelligence is critical to their future plans, even if also tell us that they have a lot of work to do to make that happen. The increased emphasis becomes clear when we compare the importance retailers place on capabilities that are enabled by location data this year vs. 2020: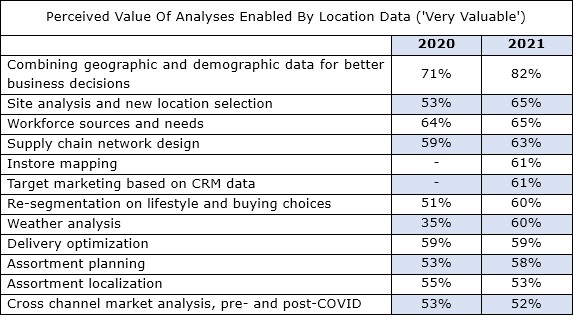 Source: RSR Research, July 2021
While this year a majority of retailers generally place a lot of value on every analysis option we presented, the highest valued choice, "combining geographic and demographic data for better decision making" is really an aggregation of all the others. And while combining geo- and demographic data in decision making processes is by no means new, it is certainly gaining momentum as the nature of demographic data itself is changing from static to dynamic information.
Read The Report
To be successful in today's fast-changing world, retailers need to be able to "see" what's happening in and around their businesses in real time. Such vision enables them to react quickly to changes that affect their business outcomes, and for several years now, we've been researching the location intelligence tools that hold the key to bringing this vision to life.
But after a year like 2020 – a year like no other – what now? How far have retailers progressed in their efforts to infuse operation processes with location intelligence in 2021? What technologies have retailers settled on to make that happen, and what stands in the way? Which operational processes have the most to gain from geo-location awareness? And is location intelligence creating a new competitive wedge for winning retailers?
Download our new report, Creating Competitive Advantage With Location-Aware Processes, to find out. This brand new research, sponsored by esri, features 20 charts across 28 pages of in-depth analysis. Like all RSR reports, it is completely free of charge to registered users. Registration is also free, and only takes a moment.
We hope you enjoy it!
Newsletter Articles
July 20, 2021