The Customer Experience As Bromide

						Username: 
Name:  
Membership: Unknown
Status: Unknown
Private: FALSE
					
Everyone is talking about the Customer Experience in retail. In fact, it's got its own acronym: CX. Sexy. But how real is retailers' actual focus on the CX? The past week I have come across two different real examples from real shoppers, both of whom were gob smacked in their own ways. Yes, they popped up on social media, but it's instructive.
It also begs the question: how serious are retailers, really? Is CX a bromide or a reality?
Let's start with the simple one. A good friend from way back in college posted the following photo on Facebook. As a visual ethnographer, the visual representations of a society fascinate him. This shot, taken at a store in a very large grocer tells the story all by itself.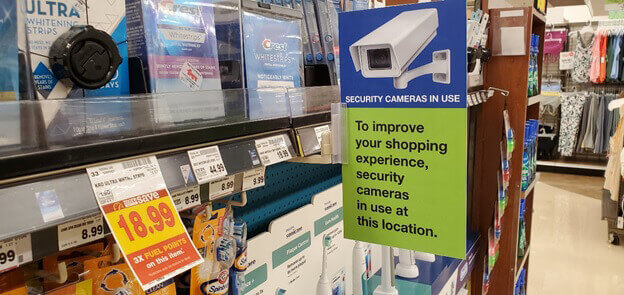 Guys, security cameras are fine. It is obvious that the items in the photo are high theft items. Who knew? Whitening strips are clearly desirable. But what exactly do security cameras have to do with "improving your shopping experience? " What's the alternative, exactly? And what's the point? Would it have been dishonest to say, "Security cameras in use " and be done with it? Why mix the shopping experience in with the very practical need to keep shrink in check?
But the second piece, written by a friend, Paula Marks from New York, is really the kicker. Ms. Marks is woman with a long history in the apparel and retail industry, writing as a savvy observer. It was frankly too good to just leave as a posting on Facebook.
Saving Major Retail
Is business bad, or is that a euphemism for the myriad of issues that retailers suffer from, including 'real' situations vs. highly skewed survey data?
Like most people, I attempted to take advantage of the summer sales. I stopped into a major high-end retail department store, perused the sale racks in the designer areas, and left empty-handed, with no hope for fulfillment in Merchandising terms.
The first item required me to interrupt a young man and woman deep in social conversation. 'Hi,' I said, 'do you have this in other sizes?' 'No, it's the last one,' said the man. 'Oh,' I said. 'Can you check the branches (a passé term for automated inventory).' He shouted, 'DO YOU KNOW HOW MANY TIMES I HAVE CALLED THE BRANCHES?' I said, 'No, how would I (guess he doesn't know that merchandise gets returned and can be recycled for sale)?' Perhaps if he had asked for my contact information, he would have, at the very least, garnered some good will and offered some very 'basic' customer service.
The next item was several departments away, staffed also by very young people. I picked up an item where there were many pieces of the same blouse and tried to unsuccessfully decipher the tiny print on the tag. I stopped a salesperson and asked her if she could tell me the size and price of the garment. She squinted as well and said, 'I can't read it. But you can't buy it anyhow; the registers are down.' Again, had she asked for my contact info, she might have made a future sale.
Short of stealing, I wasn't leaving with a goody bag!
Admittedly, I am an old-fashioned retailer – I spent the first half of my career in the business.
I saw a number of missteps in this situation. Sealing the deal actually involves many components. It starts with the product and its quality and moves right down to its price/ size tags.
Having recruited internally for luxury specialty businesses including Bergdorf Goodman, I can tell you that hiring is not as easy as it appears. 'Looks: 10' was more valued than most other traits. But other things are important. Training can provide basics for rules, regulations and POS operations. They can also attempt to teach "Customer Service " standards and scripts, but they cannot anticipate every possible scenario, and the most appropriate solution.
What's the answer? Is there any one answer? I believe, much like our politics, we are just not paying enough attention. The answers don't lie within inhuman automated surveys, they are outside the shopping bags.
This is a very real experience from a woman who knows the business. She understands the hard bits and the easy bits. And most importantly, she knows when she's being "blown off. "
Retailers consistently tell us that educated and empowered employees are key to their retail success. In our most recent benchmark on the state of the store, 70% of respondents said stores are their primary face to the customer. Yup, more than their websites, their stores tell the story of their brands. And stores have several major components, employees, product and a physical plant (floors, bathrooms, etc.). Yet, they also tell us they don't have enough money to keep the stores as clean as they'd like, and employee training is as low as 10 hours per YEAR for in-store personnel.
Ask yourself: how are you doing?
Newsletter Articles
July 16, 2019