Sustainability Quietly Gains Momentum At Your Grocery Store
Username: 
Name:  
Membership: Unknown
Status: Unknown
Private: FALSE

						
If you're like other consumers around the world, you probably haven't given much thought to the little plastic clips that keep the bags of bread products and produce on your grocer's shelves tightly closed. If you're in doubt about what I'm referring to, here's a picture of a fist full of them I took from the junk drawer in our kitchen: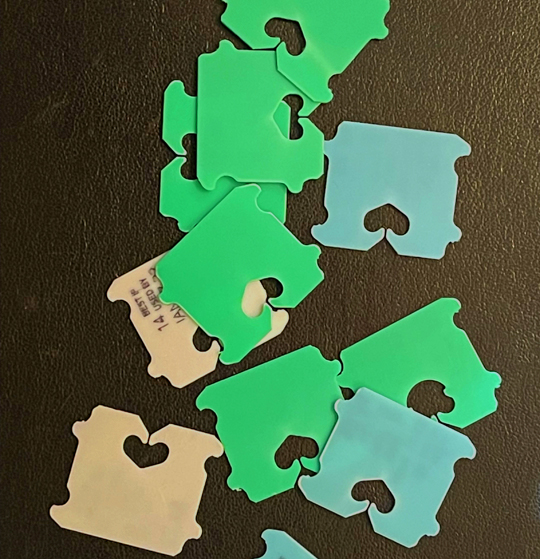 These little things are called "bag closures", and they are produced by a company named Kwik Lok, which is a 3rd generation privately owned manufacturer based in Yakima, Washington, with six factories around the world. Beyond bag closures, the company produces bag closing equipment, labels, and printing solutions for all kinds of bagged packages – but especially bakery and produce. According to the company's website, "With Kwik Lok you can not only close your bagged packages but also label your bags, and print coded traceability information on the closure. We offer these capabilities on all automatic, semiautomatic, and even hand-applied lines."
The bag closure is one of those things that just makes life a little better. But a quick look at one of my samples from the kitchen drawer points to a potential problem: it's made from plastic.
RSR's recent research has begun to uncover growing retailer concerns about "ESG" ("environment, sustainability, governance"), largely as the result of consumer awareness and expectations. Kwik Lok's leadership obviously sees ESG as both a challenge and an opportunity, and so the company has developed a new version of its bag closure called the Eco-Lok.
I wanted to understand more about Kwik Lok's sustainability agenda, and so I called the company's Global Director of Marketing & Communication, Karen Reed. According to Karen, the company produces "billions" of bag closures; "if you go into the grocery store in the produce and bread aisles, you're going to see our product a lot!"
The company clearly has a lock (pun intended) on the market, although like any great idea, it has its imitators. The question is, what caused the company to go in the direction of eco-friendly products? "It was a good combination of things that happened", explained Karen. "First of all, our CEO Don Carrell had been working in plastics for quite a while, and he realized that materials science was becoming more and more important and there were some exciting things going on that could have a big impact on the planet."
At the same time, the company was transitioning to a new generation of leadership. The new generation, sisters Stephanie Paxton Jackson, Kimberly Paxton-Hagner and Melissa Steiner, defined a values-driven mission. As part of that, a decision was made to focus on social and environmental responsibility as a matter of corporate policy. That in turn led to some of the new products, starting with the Eco-Lok launch in 2019.
Karen explained, "At the moment we have two products on the market in terms of our closures that are considered part of our sustainable portfolio", said Karen. "One of them is the Eco-Lok – which is made from a sustainably sourced starch (potato and corn starch), so it's got up to 20% less traditional plastic. What that means is that it's got not only less plastic, but a lower carbon footprint. The other product is Fibre-Lok, a product that works in bakery and is made from cellulose- in some markets it's made completely from wood fibers, and in others it's made from wood and cotton. The Fibre-Lok we're offering in Europe is compostable, and we're testing one for the Australian and Canadian markets."
One of the challenges for producing eco-friendly products is that there are overlapping standards; when the company develops a product for a market, it has to figure out how well it aligns with regulations. Retailers like Walmart and Albertsons are also pushing for more eco-friendly solutions, within the regulations of the markets they operate in. "Regulations are all over the map," explained Karen, "it's a patchwork quilt between countries and between states and even counties (in the U.S.). So we're signatories on the U.S. Plastics Pact, the Canadian Plastics Pact, the European Plastics Pact, and the Australian/New Zealand/Pacific Islands Plastics Pact." All the pacts use a framework established by the Ellen MacArthur Foundation, an organization devoted to solving "big problems like climate change, waste, and pollution."
When it comes to sustainability, there is no one-size-fits-all solution. For example, Karen explained that in some cases the Fibre-Lok can have a larger carbon footprint than the traditional product. Reaching sustainability goals is likely to be a reiterative process. The Kwik Lok representative explained that while the plastics pacts are focused on getting rid of unnecessary plastics, there are really important applications for plastic materials. The challenge is to develop roadmaps for each of those applications that move towards greater sustainability over time.
So, just how eco-friendly are the new closures, compared to the traditional Kwik Lok? "We're aware that our products have a lifecycle", said Karen. "After the bread is consumed, the closure needs to go to the landfill – it's too small to go through recycling sortation machines, so it needs to be in the landfill instead of on beaches and in waterways. That's one of the reasons we created the Eco-Lok; it degrades much quicker than our traditional product." How much faster? "Four hundred years for the traditional Kwik Lok – four years for the Eco-Lok!"
The next time you pull that clip off a new bag of your favorite bread, take a moment to appreciate the people behind the scenes that are working hard to put fresh food in your pantry and help save the planet at the same time. Stories like Kwik Lok's sustainability agenda don't often get the spotlight, but they should.
Newsletter Articles
May 10, 2022