Retailers Keep Missing The Boat On Sustainability: Customers Already Half Way Across

						Username: 
Name:  
Membership: Unknown
Status: Unknown
Private: FALSE
					
We've been talking about environmental sustainability in retail for a really long time here at RSR. We launched our very first "Green Report" (as we were calling it at the time), way back in 2008. If you don't recall that one, here's the quick summation: retailers didn't really care much about anything that wasn't related to electrical or HVAC cost reductions in their stores.
Over the ensuing years, we kept trying. Over the ensuing years, we kept finding similar results. So somewhere around 2015 we decided to take a break from our finger wagging that "this is going to become important to consumers at some point, and you need to be ready," and stopped our line of inquiry.
That doesn't mean we lost interest, personally. Quite the contrary. Among the partners, some of our most spirited internal conversations have been about sustainability undertakings, whether in retail, manufacturing, or even from outside industries such as transportation and fintech. Yet no matter how we tried, we just couldn't find anyone willing to sponsor another report specific to retailers' interest in sustainability matters.
Well, we think we've found a solution. For the time being, at least, we're going to be folding at least one or two eco-minded questions into our topic-specific surveys. And perhaps even more interestingly, we're going to ask shoppers to weigh in, as well. If that doesn't get some attention, what will! Our first attempt at this tactic was in our latest merchandising report, and as you might imagine, retailers do, indeed, have some pretty strong opinions on how environmental issues relate to products and product mixes.
The chart below shows what retailers currently think of the matter. The question is, are they right?
Figure 1: Retailers: We Know The What's And Why's Of Sustainability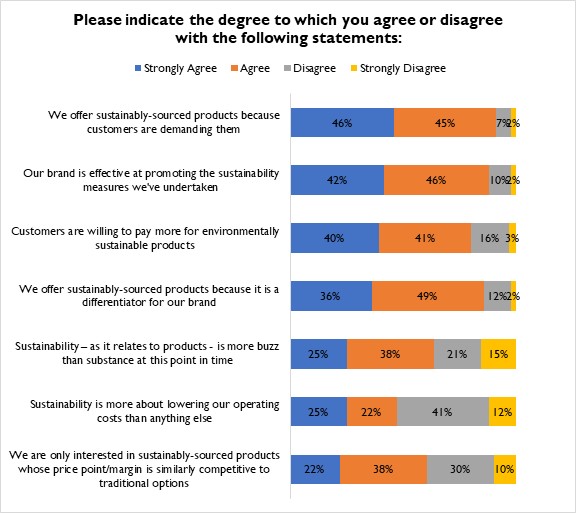 Source: RSR Research, January 2023
The story the data above tells can by summarized succinctly:
According to retailers, sustainably-sourced products are a customer-driven initiative, period – full stop. This is not even about lowering operating costs – this is about telling a story to please customers
A majority think that story is more about buzz than it is substance, to date
The vast majority (86%) think sustainably sourced products can thus be a differentiator for their brand, and
Nearly 9 out of 10 retailers think they've done a good job promoting their efforts in this space to date
However, based on some past research we've conducted (not related specifically to merchandising), we anticipated that retailers would likely give themselves high marks in this department; and as we'll see in a moment – in some other departments, as well. Turns out consumers have different ideas about what sustainability means when they are picking out products (Figure 2).
Figure 2: However, Consumers Have Different Ideas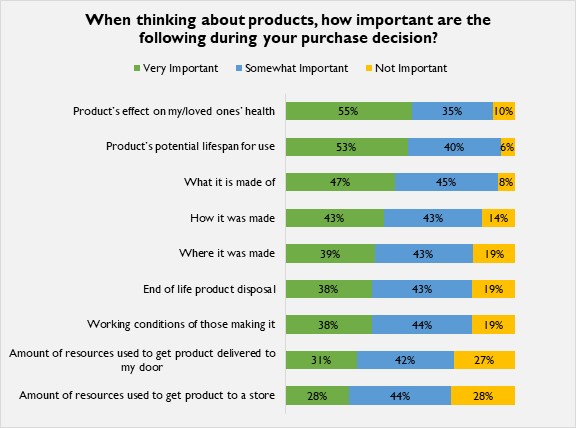 Source: RSR Research, January 2023
When analyzing "very important" and "somewhat important" together, we can see that where a product was made, how many resources were required to get it to a buyer's door or even to a store shelf – all these things are important to shoppers. But what really matters most to them relates directly to health concerns: what the product is made of, its overall lifespan and its direct effect on the user's health. These are highly personalized concerns.
For consumers this isn't about buzz, and it isn't about things that might easily be put out of sight and therefore out of mind (C02 emissions, manufacturing environments, etc.). This is about them – and their health. And it doesn't just stop with importance: shoppers tell us they are willing to put their money where their mouths are (Figure 3).
Figure 3: Willing To Pay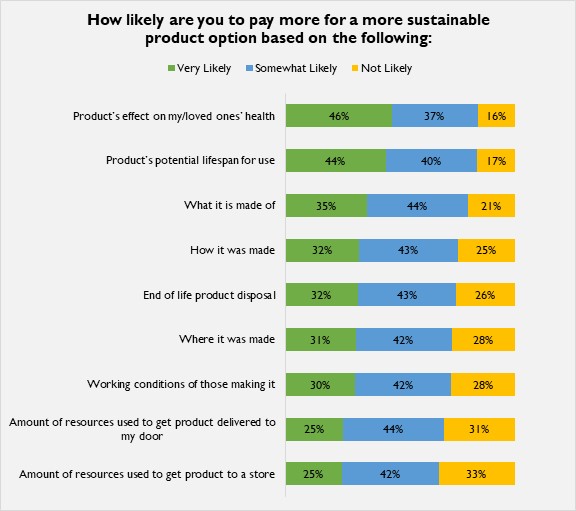 Source: RSR Research, January 2023
When Does It Matter?
If shoppers really are willing shell out more, the statement only becomes that more relevant when we ask the types of products where sustainability matters most to shoppers (Figure 4).
Figure 4: Especially For Food And Beauty Items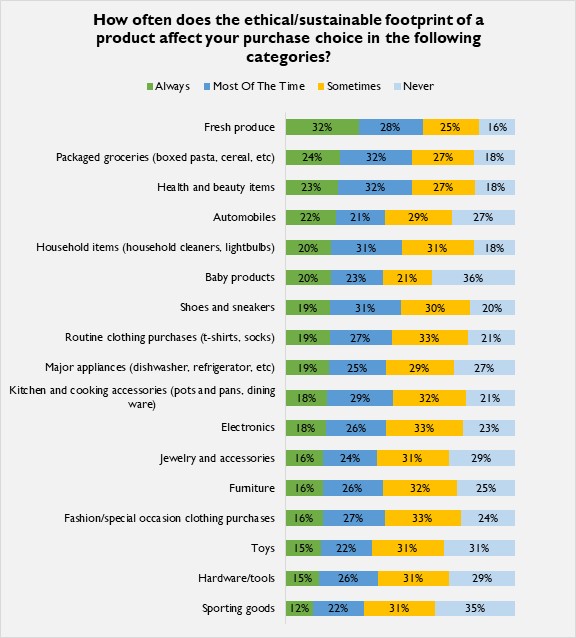 Source: RSR Research, January 2023
Put plainly: if a product goes in a consumer's mouth or on their skin, a product's environmental footprint is already affecting more than 50% of shopping purchases currently made in the United States. Fast moving consumer goods retailers (FMCG: defined as grocery, pharmacy, and convenience retailers) should be aware of this trend as reality right now. For retailers selling everything else – from Fashion to Consumer Electronics to Hard Goods, the writing is clearly on the wall. This is not buzz. Shoppers want better options.
It's well past time.
Newsletter Articles
February 1, 2023