Report Preview: Mastering The Art Of Merchandising In The Technology Age
Username: 
Name:  
User roles: 
Membership: Unknown
Status: Unknown
Annual Revenue: 
Profile Complete: 
Private: FALSE
								
						
RSR is about to publish the 2019 edition of our annual "state of merchandising " benchmark, and this year's report highlights a real sea-change from prior years' reports. For the first time the responses to our survey show a majority of over-performing Retail Winners believe their systems are capable of keeping up with new consumer demands. In fact, a majority of Winners now feel well-poised to consume new data to better understand the dynamics of demand and to act on the insights gained (Figure).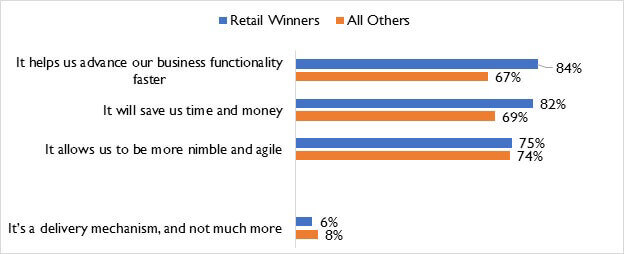 That's good news for those Winners that are well positioned, but it also means a majority of all retailers aren't in such a good place, and are still grappling with the organizational, process, and technology changes needed to enable better merchandising performance. And while Retail Winners demonstrate a better understanding of modern tools and techniques to improve Merchandise planning, average and lagging retailers who have insisted in the past that the delicate "art " of such decisions could not be superseded by algorithms and computer-based projections realize that they were wrong – and now have to scramble to make up for lost time.
By no means is the battle over, however. While more Retail Winners than others report they have implemented and are satisfied with various tech-enabled processes, there is still a lot of headroom for the industry as a whole to grow. Technology adoption once again is a deciding factor in whether any retailer is a winner or an also-ran, but the study shows that even Winners need to push the go-faster button.
So what are retailers trying to achieve? They generally agree that the top business challenges they seek to address with more data-driven Merchandise planning are as follows:
Retailers struggle to differentiate when aggressive competitors and consumer price sensitivity make price the primary demand driver
Consumers expect narrower assortments
Competitors can bring new products to market faster
Customers are looking for more unique products
Retailers – and especially Retail Winners – are also thinking opportunistically about how new data and analytics will help them to achieve the following:
Improve their ability to adjust to deviations from sales forecasts
Optimize Prices and markdowns to boost sell through
Better incorporation of customer segmentation & preferences into the planning process
Have a consistent, accurate and detailed demand forecasting platform
Tailor assortments to customer preferences
Integrate planning with cross-functional teams
Shift to a holistic pricing, assortment and promotion decision-making process
Look For the Report!
If you want to learn more about retailers' attitudes when if comes to the challenges and opportunities associated with merchandise planning and execution, be sure to check out the new report, Mastering The Art Of Merchandising In The Technology Age, available this week on our website, www.rsrresearch.com!
Newsletter Articles
March 26, 2019