Is There A Future For Stores?
Username: 
Name:  
Membership: Unknown
Status: Unknown
Private: FALSE

						
Back in July, I wrote a piece for RSR's weekly newsletter entitled, "Are Retailers Standing On The Proverbial Burning Platform?". The piece was a response to a question I was asked during an NRF webinar that I participated in with the CEO of Envista. The webinar was entitled "Omnichannel Agility – Maximizing Customer Service And Profitability", and it focused on omni-channel order orchestration.
The question I was asked was, "How will retailers adapt to a post-pandemic world? Is the environment today more of a catalyst after seeing long-time established retailers closing up shop? In reality, it was a long chain of events and not being able to adapt to the environment that caused them to eventually bottom out!"
I quoted something from a recent study that RSR had conducted on the case for AI-enabled insights and automated decision making in the supply chain. In that report, we observed that, "most retailers have only recently begun to make the changes necessary … to be able to respond quickly to sudden changes in demand."
So, that was in July, when the world hoped that we'd all soon be able to come out of our houses after an extended lockdown in response to the global pandemic and go shopping. Well! That sure was premature! Now as we round the corner towards the all-important holiday shopping season, consumers are shifting a significant amount of spending away from brick-and-mortar stores in favor of online shopping. Most industry observers expect that to continue as the holidays approach.
For example, online commerce platform provider Adobe recently predicted that 2020 U.S. online holiday sales will reach record highs, with an increase of 33 percent in spending, with sales expected to reach $189 billion by year's end. According to the company, this growth (approximately equivalent to 2 years' "normal" sales growth based on recent years) is the result of two things: the increase in e-commerce shopping due to COVID-19, projected growth due to an extension of traditional Cyber Week sales turning into "Cyber months".
Online business news source Business Insider recently published the following overall projection for the 2020 holiday season: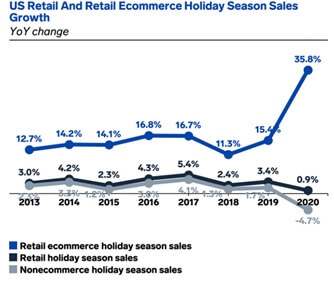 Meanwhile, stores continue to suffer from accelerating closures. The Coresight Research Retail Store Databank, which tracks openings and closures in the US and UK, counted 8194 closures YTD 2020 vs. 3328 openings (as of Nov. 13), for a net of 4866 closures. Just to put those numbers into a context, website statista.com reports that there are 442,597 brick-and-mortar retail stores throughout the United States (as of July 22), while in the UK there were approximately 300,000 retail stores at the end of 2019.
At far less than 1% of stores closing across the US and UK markets, cries of the imminent demise of the store seem like wild hyperbole. RSR agrees; like legendary country singer Loretta Lynn said this summer, "I ain't dead yet".
But one thing is for sure: the role of the store has changed irrevocably, and that change has been accelerated by the pandemic. The 2020 pandemic has changed consumer shopping behaviors in some important ways. Most notably, consumers started to avail themselves of buy-online-pickup-instore (BOPIS) or pickup curbside, in huge numbers. Some retailers reported huge increases in e-Commerce orders as a result of BOPIS, and one source reported an over 500% increase in BOPIS orders. As the industry has seen since the launch of smart mobile phones during the Great Recession on 2008-12, once consumers discover new ways to empower their shopping experience, they aren't likely to giving them up. Recent RSR's research has shown that a majority of retailers are now placing high hopes in offering a BOPIS capability in order to differentiate from the competition. But whatever advantages retailers are getting in 2020, 2021 is likely to see them diminish; some industry watchers predict that up to 90% of retailers will offer BOPIS by 2021.
If there's one thing that we should have learned about consumers in the last decade, it should be that once consumers adopt new ways to improve their lifestyles, they won't willingly abandon them.
The store is losing one of its two key roles, as the place where demand is created. While it continues to fulfill its other role as the place where demand gets fulfilled, that is getting challenged by the explosive growth in direct-to-consumer orders. This affects retailers large and small; for example, last week, Fox Business News reported that, "Walmart Inc. is placing 'pop-up' e-commerce fulfillment centers inside dozens of its regional distribution facilities as the retail giant braces for an expected crush of online sales during the holiday season."
The events of 2020 have underlined an important realization – that the store has to be adaptive to stay in sync with how consumers discover, select, pay for, and take possession of products their lifestyle needs. In the 'next normal', store modernization isn't a once-in-a-generation event – it's an ongoing process, as fundamental to retail as demand forecasting or assortment planning. There is no one-size-fits-all anymore.
So, to finally answer the question, "Is there a future for stores?", the answer is "yes and no". "Yes", there's a future for the store – in the context of a digitally enabled selling environment. "No", the store as a self-contained island of retail is dying right before our eyes.
Newsletter Articles
November 17, 2020