Controlling The Controllable: The Customer Experience

						Username: 
Name:  
Membership: Unknown
Status: Unknown
Private: FALSE
					
In our recent research on the Customer Experience, a lot of retailers tell us that providing an excellent customer experience is the way in which they plan to differentiate their brand. While that sounds like great news, much of what's needed to provided an enhanced experienced is still well out of most retailers' control – changes in customer demand are shifting that quickly.  
When we dig in to find the challenges retailers do have more control over – namely their internal, or Operational Challenges – we see the real culprit behind why retailers have yet been able to meet customer needs better: data (Figure 1).
Figure 1: The Recurring Data Issue Emerge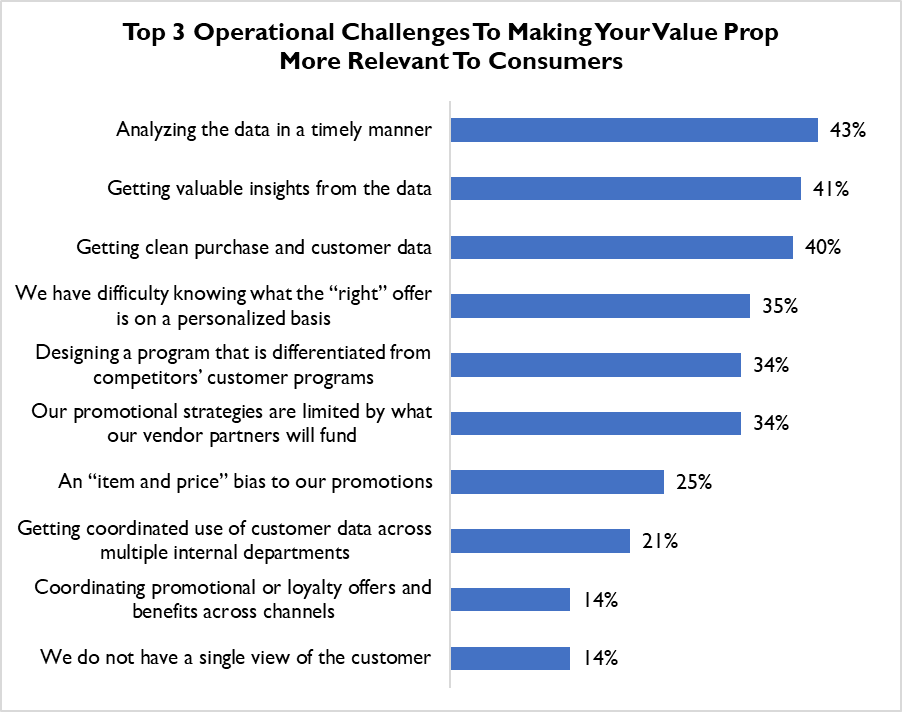 Source: RSR Research, February 2023
Retailers collect oceans of data about consumers; demographic information, location information, data about the products they buy and the affinities between them – there is seemingly no end to what they can (and do) collect. But the ability to make sense of that data, to create actionable intelligence, continues to elude. Nearly every one of the challenges listed in the lower half of Figure 11 is an outcome brought about by the top three: data can't be analyzed quickly enough, it is difficult to derive "next best actions" from that which is collected, and underneath it all – verifying that the data is even pure to begin with is difficult. Everything is made more difficult by these top operational challenges.
The Data Game
What's more, when we view the same data by product being sold, an even clearer picture comes into focus (Figure 2).
Figure 2: Challenges Vary By Product Segment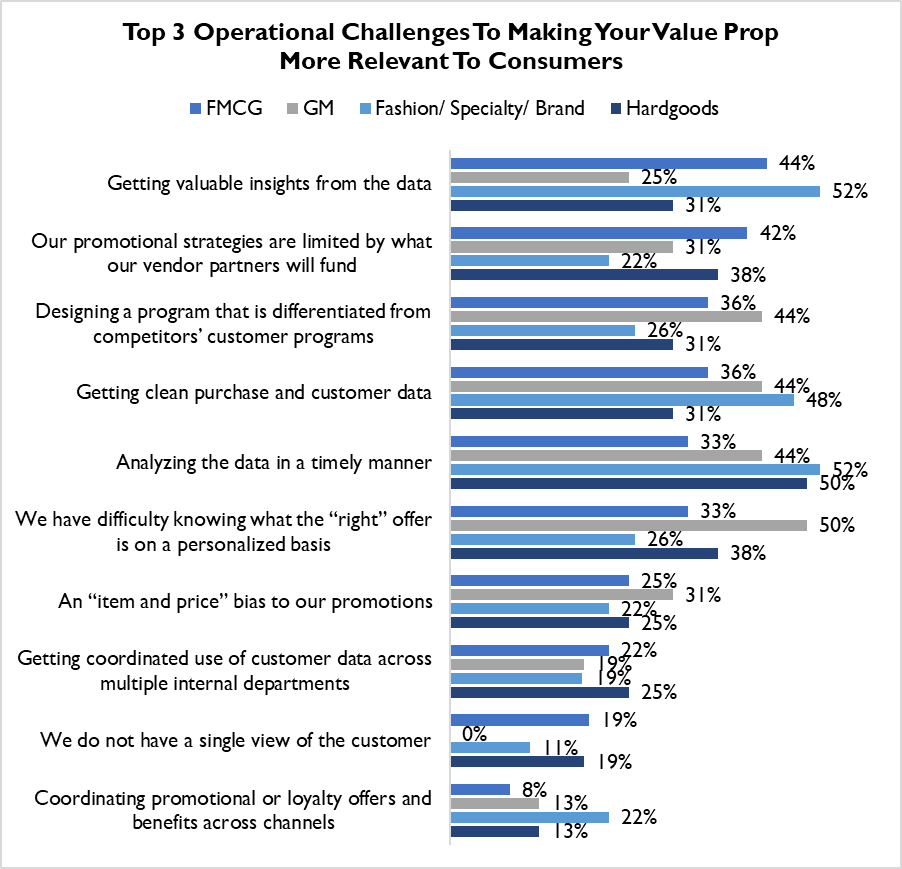 Source: RSR Research, February 2023
Perhaps the most interesting way of looking at the results in Figure 2 is to take note of the top challenge each product segment identifies:
Grocers have the hardest time getting valuable insights from the data they collect. This can be viewed a multitude of ways: as avid and early adopters of loyalty programs, what are FMCG retailers doing with the information they've been able to collect? Loyal shoppers may be in their stores weekly – or even multiple times a week. Yet with all those SKUs on offer, even with the highest level of repeat purchases of any product segment, FMCG retailers struggle to gain real insights from their current data tools.
General merchants are most challenged to know what the right offer is from one customer to another. This also makes perfect sense, as the vast assortment of products they sell may propensity to buy for any given consumer more difficult than for any other type of retailer. Finding the right value message is as much science as art for GM retailers.
Hardgoods retailers say they can't analyze the data they collect in a timely manner. This may be a function of the product mix with which they must contend; consumer electronics are practically out of date before they are sold, and lead times for many of the products sold in this category (furniture, housewares) are quite long. Either way, hard goods retailers are most focused on speeding things up.
And fashion retailers are equally challenged to both (a) make sense of what the data they are collecting is telling them and (b) to analyze it quickly enough to identify trends. When their entire business is predicated on knowing what will be hot next season, this only makes sense.
All retailers are in a bit of a data-induced bind.  How they plan to get out of it – is highly determinant on what they sell. The full report digs into those opportunities.
Newsletter Articles
April 5, 2023