Consumers To Retailers: 'We Need To Talk!'

						Username: 
Name:  
Membership: Unknown
Status: Unknown
Private: FALSE
					
First, the good news: According to the U.S. Census Bureau, "October data pointed to resilient consumer spending, despite high inflation and rising borrowing costs." According to the agency, "retail sales in the US surged 1.3% month-over-month in October of 2022, the strongest increase in eight months, after a flat reading in September and beating market forecasts of a 1% gain. Excluding gasoline and autos, retail sales were up 0.9%."
But here's more sobering news: Deloitte Insights regularly surveys consumers sentiment and publishes its findings on its website. And on November 23rd, the company predicted a consumer spending pullback. Based on a survey that measured consumer confidence, Deloitte highlighted consumer concerns that prices are headed in the wrong direction (Figure).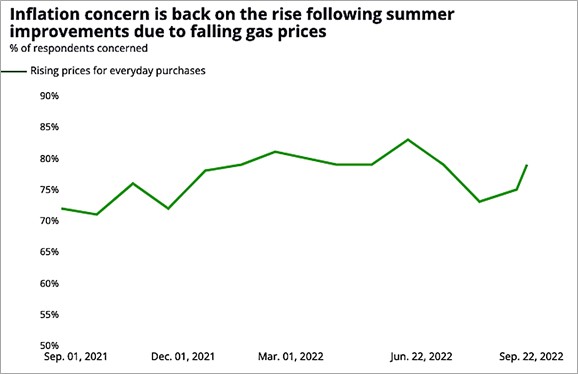 Simply put, shoppers are more price conscious than ever.
Clearly consumers are getting worried about their personal economies and getting the most out of their spending money is more important than ever. This isn't anything new; consumers have retained smart shopping habits they developed back in the Great Recession. Like those days, their focus on price heats up as the economy cools down. In fact, in a recent survey of over 1100 U.S. based consumers, RSR learned that consumers look for the lowest price (not "low", but "lowest"!) as the most important reason to choose a particular retailer.
Consumers To Retailers: 'We Need To Talk!'
For the longer term, we're seeing some results in our survey work that indicate that retailers and consumers are getting out of synch on what constitutes "value". Consumers expect a lot – and retailers are spending a lot to deliver on their brand promises, but that doesn't mean that consumers are willing to loosen up the purse strings unnecessarily – and that's where the disconnects are.
In an in-flight survey we're conducting for a January 2023 "state of the retail supply chain" report, we are learning that most retailers "strongly agree" or "somewhat agree" to several statements, that are at odds with what consumers are telling us. Take a look at these "he said/she said" comparisons:
"Consumers are willing to pay for additional order shipment options" (probably not! consumers are more interested in getting digital or paper coupons that offer them additional discounts as rewards for their loyalty, and only one-third of consumers are willing to pay more in consideration of the amount of resources used to get product delivered to their door);
"Customers are willing to pay more for sustainable products" (Less than 40% of the consumers we surveyed are willing to pay more depending on how it was made, what it is made of, working conditions of those making it, or end of life product disposal);
"Customers are willing to pay more for locally-sourced products" (only about one-third of consumers are willing to pay more for products depending on where it was made or the amount of resources used to get product to a store);
"Consumers will accept substitute products when we are out of stock with their first choice" (this is only half true; according to the consumers in our survey, 48% put a high value on a retailer's ability to offer substitute products).
Clearly consumers and retailers are on different tracks!
What this means in practical terms is that retailers have to get past consumers' low-price test first, then be prepared for the next question: what else have you got for me? That's tough when the primary alternatives to local retailers are supply chain masters like Amazon and Walmart. And it only gets tougher when consumers are on edge.
Ultimately, any discussion of winning in retail has to get back to the idea of building community up around the brand. To achieve that, retailers need to talk with consumers, listen, and learn. According to our consumer survey, many shoppers are willing. In fact, they value retailers that "know enough about me to identify products I may like", "know enough about me to make offers based on shoppers like me", and "know enough about me to make offers specific to just me".
Consumers are speaking via their shopping behaviors. Retailers just have to listen.
Newsletter Articles
November 29, 2022