APTOS Engage 2023: Embracing Unified Commerce

						Username: 
Name:  
Membership: Unknown
Status: Unknown
Private: FALSE
					
Much has been made over the last 12 years about the rise of omnichannel (aka "unified commerce", or "phygital") retailing– but until the pandemic hit the world in March 2020, it was hard to get agreement on what it really meant or what it's scope was.  RSR's position has been that no matter what you call it, the convergence of the digital and physical selling "channels" into a single selling environment is happening before our eyes – and it's being driven more by consumer shopping behaviors than any great vision by one retailer or industry analyst.
In RSR's view, the pandemic accelerated the pace of that transformation. To validate the point, we conducted a consumer survey in October 2022. In the survey we asked the question, "how do you normally start your shopping journey?" The results provided no comfort to retailers (Figure 1).
Figure 1: How Consumers Start The Shopping Journey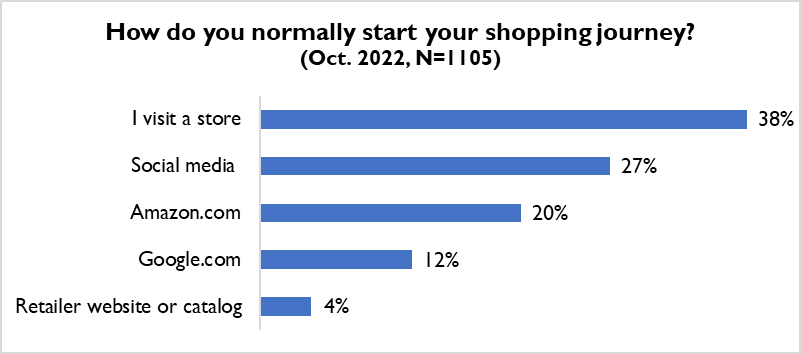 Source: RSR Research, October 2022
The challenge is pretty clear: the new reality – that consumers more often than not begin their shopping journeys in the digital domain – is having a profound impact on the role of today's store. But the fact remains that however a shopping journey begins, it still ends in a store most of the time. To put it lightly, the store today can no longer exist as "an island of retail". Now, it must exist as part of an integrated selling environment.
And that was the topic of this year's Aptos Engage User Conference, held in May 2023 in Las Vegas.
Aptos CEO Pete Sinisgalli started off the conference by framing the subsequent presentations in the context of the Aptos Unified Commerce platform (Aptos Store and Aptos One, Aptos Order Management (OMS), Revionics Price Optimization, Warehouse Management, and "backoffice" capabiliities Merchandise, CRM, Audit, and Analytics). 
Pete quickly turned the microphone over to representatives from Bain Capital, who had conducted a survey on behalf of Aptos, which highlighted the careabouts of 300 IT leaders, re. the state of Unified Commerce.  Featuring this content so early in the conference was an interesting choice, kind of "you don't have to believe us – believe your own peers!" statement.  From the research, it was clear that "Unified Commerce" is among retail IT leaders' top priorities. This was a long way around to saying that Aptos and the market it serves are in alignment.
Aptos VP of Strategy (and RSR alumnus) Nikki Baird shared some great insights about what today's shoppers value in a retailer. And Chief Product Officer Karthik Mani discussed how the organization is poised to deliver next-generation Store Fulfillment, Promo, Localization, and Inventory capabilities in 2023.
VP of Product Management Ian Auerbach followed up on Nikki and Karthik's presentations by talking very specifically about the priorities that Aptos is expending resources on right now. According to Ian, the company's investment themes are towards scalability, quality, mobile-first, extensibility, and what he described as "singular experiences" (i.e. the ability to support many different paths-to-purchase). He discussed work the developers are doing to improve "available to promise" inventory visibility ("a prerequisite to unified commerce", said Ian), improvements to OMS capabilities, and Store Fulfillment.
The company's focus aligns well to what RSR has been observing in its own research in the past 18 months. The store is being redefined in the context of Unified ("omnichannel") commerce.  Aptos is clearly bullish on "the store", not as a standalone instance of a retailer's brand, but as an integral part of a complex selling environment. As Nikki pointed out in her comments, the "hot topics" right now in retail are:
Profitability over marketshare (i.e. improve the profitability of customer order fulfillment)
Distribution (a more cost effective last-mile delivery)
The store presence (the new raison d'être for the store in the context of Unified Commerce).
I had time to attend several informative presentations that all supported the overarching theme of the event, that Aptos is the leader in Unified Commerce:
The New Balance case study, all about the company's "transformation journey" with strategic investments to harmonize the company's global systems;
The Checkpoint Systems presentation about the state of RFID ("nearly 100% inventory accuracy, compared to 65-70% accuracy for non-RFID environments"). Scott Reithmeier of Checkpoint quoted research that states that "products are in stock" is the #1 reason that consumers shop with a particular retailer. But RFID has other benefits beyond "available to promise" inventory visibility – the tech can help retailers more efficiently receive, find, restock, track, reserve, and ship items.
Representatives from the Revionics team shared plans to deliver promo optimization later this summer, but they also discussed the solution's ability to help retailers "price the unpriceable" (fresh items, complex promotional schemes, loyalty based pricing, and initial pricing for new items).
Scott Zucker, the GM of the Revionics division at Aptos, hosted a discussion with representatives from Canadian grocer Loblaws about "pricing fluency". This was an excellent presentation about how the company moved from a legacy price optimization capability to the Revionics solution.
At another "Revionics" presentation, Josh Oettle and Jana Lynn (both from Revionics) shared more information about the next-gen promo optimization capabilities being released later this year.
The two most fascinating presentations at the conference related to AI/ML and Generative AI. The first was given by Matthew Pavich, Revionics Sr. Director of Innovation. His topic was "AI To Shelf: How Revionics Influences The Shopper Journey". Pavich attempted to defang the generative AI "monster" by putting it in the context of a journey, from "insights", to "reactive", to "predictive", to "real-time", and finally to an as-yet unnamed space where "generative AI creates data relationships that didn't exist before – unlocking new capabilities". AI can be an obtuse topic, but according to Matthew, the Revionics strategy is really about "making AI consumable across the organization with business friendly dashboards and tools".
The second presentation was from Revionics partner Google. Google's Cloud Retail Industry Solutions director Amy Eschliman showed how retailers like Ulta Beauty, Macy's, and Cartier are using AI for customer service, augmented reality experiences, search and product discovery, and image recognition, to create unique and satisfying customer experiences.  According to Amy, the value drivers behind AI adoption in retail today are:
Hyper-personalization by generating and optimizing relevant content
A Marketing "re-do"
Conversational interactions
Gaining new efficiencies by automating and improving operations
In other words, her message is to get beyond the hype, and start thinking about AI as a new and powerful tool to differentiate.
Wrapping It Up
Aptos operates in a crowded space, with competitors like Manhattan, Blue Yonder, Kibo, Fluent, and Salesforce all vying for space in the dialogue about next-gen, or "Unified Commerce" (or U-C), retailing. The conference was a chance for Aptos to demonstrate its U-C abilities. Any conversation about U-C, particularly in fashion and specialty, should include Aptos – they have something to say!
Newsletter Articles
June 15, 2023