A Good Old-Fashioned Store Opening

						Username: 
Name:  
Membership: Unknown
Status: Unknown
Private: FALSE
					
Last weekend, Target opened its newest store in my town of Grass Valley, California. That might not seem like such a big deal- after all, the Minneapolis company announced plans to open 20 new locations in 2023, adding to the almost 2000 stores it already has. But it was big news in the Grass Valley/Nevada City area, which in spite of being within easy driving distance of the fastest growing area in California (Sacramento/Roseville), is a slow-growth rural Sierra Nevada foothills community of only about 17,000 residents.
Nevada County has long resisted big national retailers in spite of the fact that it has been losing tax revenues for years, as residents drive to downhill shopping locations in next door Placer County. In 2013, the city of Grass Valley surveyed residents about big brand retailers and learned that local shoppers were unsatisfied with their Kmart and JC Penney stores. But the locals voted in favor of having a Target, Ross, Marshalls and Kohl's, in that order of preference. Kmart closed its doors forever in December 2021, leaving only a small-format JC Penney along with a few drug stores, groceries, a Staples and a Petco, to co-exist with independent local retailers.
Fast forward to April 2023, and the new Target opened its doors in the space vacated by Kmart – in spite of the fact that California's unusually cold and wet winter prevented completion of the store's parking lot (picture).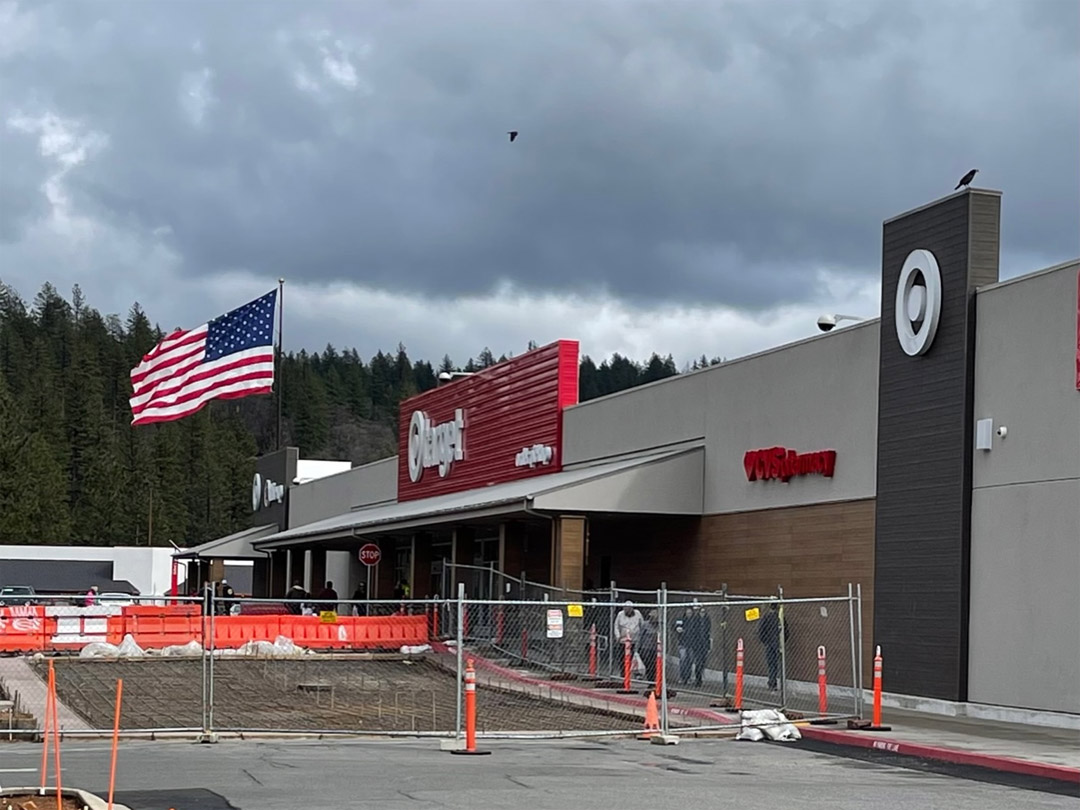 The new store sports some important 21st Century improvements, such as an Ulta Beauty store-within-a-store and a full featured CVS pharmacy, along with a drive-through customer order pickup lane and an area designated for curbside pickup. Customer order fulfillment and local deliveries are also a feature of the new store, as the company hopes to put a dent in the robust Amazon and Walmart direct delivery activity throughout the county. And there's a returns handling department just inside the main entrance.
In spite of the new features the store had a familiar feel, even though one employee told me that the layout was "a little funky" because of the wide-but-narrow shape of the 90,000 sq. ft. box. No matter: just like every Target I've been in, once we got oriented it was an easy store to navigate. The Starbucks was prominent, and the Magnolia home accessories was easy to find. The grocery department was what you'd expect to find at any Target, featuring a small but attractive fresh produce and meat aisle (just across the parking lot is a local grocer, SPD, an employee-owned operation with a fiercely loyal clientele; one SPD employee told me that the Target store manager had visited the store and assured the SPD'ers that peaceful coexistence is part of the plan).
It's refreshing to see how enthusiastic a community can be about a new store; the energy harkens back to a time that we sometimes think is behind us, now that anyone with a mobile phone can shop anytime and anywhere. In spite of all the rhetoric about stores being a thing of the past, shopping is a human activity that will never go away. After all, we humans have been going to market for thousands of years. Going to the store still has an allure.
But you don't have to believe me – hear what the locals have to say, as was evidenced by social media postings about the new Target store:
"The store is everything you'd want in a large department store: well-stocked with a wide range of products, complemented with a CVS Pharmacy and a Starbucks coffee counter. What struck me most was the employees. I have never seen such a happy group of employees. They were clearly excited to be there, showing off their new store. I met one employee who came in even though she wasn't scheduled to work. Target employees from other places who were part of the team that built and stocked the store were also there."
"Now my shopping addiction can go into full swing!!!! Amazon is going to lose soooooo much money locally lol."
"Walked in for today's soft opening, WOW it's nice to have a big box store close to us after being without one for over a year."
"Been waiting a long time for this!"
My personal favorite comment on social media was this quip: "How do you know you're a redneck? When the most exciting thing in town is a new Target store!"
Newsletter Articles
April 5, 2023