What Are Stores Gonna Look Like Next?
Username: 
Name:  
Membership: Unknown
Status: Unknown
Private: FALSE

						
For years now, conventional wisdom has told us that retailers are trending to smaller, more focused localized assortments in their stores. A small-box Target near a college campus, popup stores near entertainment centers, even store-within-a-store concepts inside traditional, bigger box retailers.
Has COVID-19 changed all that? For the time being, it would certainly seem so. Shopping is much more likely to be a get-in/get-out/one-stop-shopping event for most of us for a while. However, in a study we conducted just before the outbreak, retailers had a very different story to tell (Figure 1).
Figure 1: Go Big Or Go Home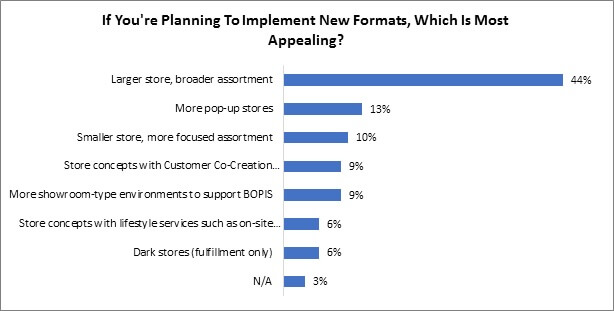 Source: RSR Research, June 2020
Much to our surprise, even in the days pre- COVID-19, our retail respondents preferred to go bigger and broader. We believe that in post- COVID times, we'll see a slightly different mix. RSR believes that broader assortments, will in fact, be a direction of choice for many retailers. The success of Walmart, Costco and Target during the height of the virus era points to that. In the same way, we expect that dark stores may become a reality along with store formats that easily support BOPIS (buy online, pick-up in stores).
Grocers are finding themselves in need of improved pickup and delivery options, while mall-based department stores remain a problem in search of a solution.
In other words, while these responses represent a moment in time, they also indicate that change was already coming, and it continues to beg the question, especially in times when cash will be short: are they ready and able to make the change? Their very survival may depend on it.
RSR believes that in general, those retailers who have been successful in the past will likely emerge as successful in the future. They have already exhibited a difference in perspective that served them well in a hyper-competitive environment. We expect they will continue to do so going forward.
Figure 2, below, gives us an insight into the differences in thought processes and execution capabilities between these Retail Winners and their peers. They place a higher value on their customer-facing employees, have far better insight into their workforce's skills and capabilities, and are more likely to have seamless processes that drive their enterprise's processes from conception through execution.
They also hold the edge in providing the information their employees need to effectively deliver on company standards.
Figure 2: Winners Focus On Employees, Process And Information Sharing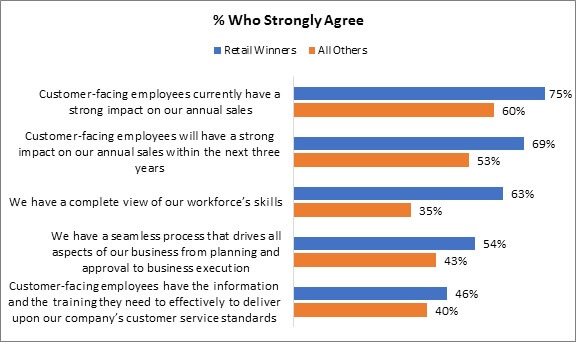 Source: RSR Research, June 2020
There is no doubt that the COVID-19 crisis and its aftermath will stretch these capabilities to the max. Companies previously thought to be infallible have been exposed as having significant breakdowns in service standards, employee safety and even on-time delivery. The supply chain has been exposed as incredibly brittle, both in-country and, of course, for imported goods. How will retailers fare?
The world changed dramatically in slow-motion real-time. We will soon find out how well these retailers will manage the new normal, and whether they can maintain employee, shopper and shareholder trust.
We invite everyone to read the full report, here.
Newsletter Articles
June 9, 2020