The Future May Be Bright, But The Present Is A Mess

						Username: 
Name:  
Membership: Unknown
Status: Unknown
Private: FALSE
					
RSR has been hammering on the topic of efficiency at the expense of agility since quite early in the pandemic. In fact, way back in April 2020, we used the great toilet paper shortage as a concrete example of this lack of agility.
While it's clear that retailers overall agree with us, there are more subtle issues at play and we can see the tip of that iceberg in the second most frequently cited inhibitor in the chart below. Interestingly, this data comes from a report we were intending to publish at the NRF Big Show in New York next week. Needless to say, we won't be attending that show any longer, nor will our partner on this research piece: Blue Yonder. As a result, we are sharing some of the findings with our Retail Paradox Weekly readers here, and as you can see: retailers say they have too much reliance on shippers to self-manage their own disruptions.
Figure 1: Focused On Efficiency And Ceding Control To Shippers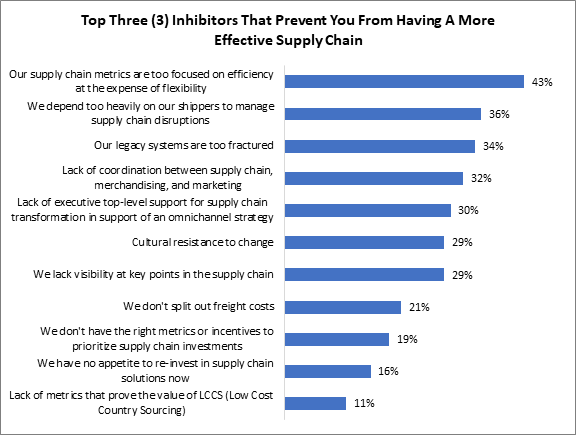 Source: RSR Research, January 2022
We have consistently seen two drivers, both of which are under-reported in the media:
Self-managing carriers on sea and land
Fear of the bullwhip effect (when demand drastically reduces, and retailers' or suppliers are left holding excess inventory)
Both these drivers stem from what can only be called profit at the expense of all else. But that begs the question: this section is about internal business challenges. What can retailers do internally to solve these external issues?
As we can see from Figure 2 below, that pain is felt in different ways, depending on retail vertical:
Figure 2: A World Of Hurt For FMCG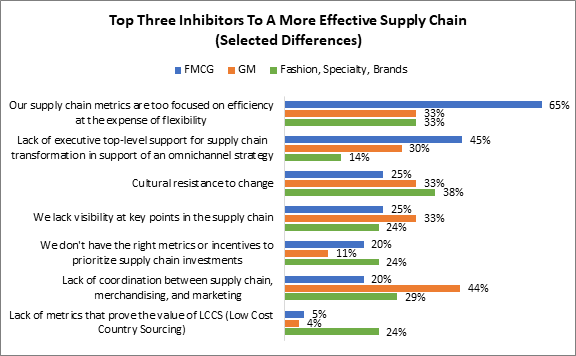 Source: RSR Research, January 2022
Certainly, those selling Fast Moving Consumer Goods (FMCG) have experienced some of the biggest shocks of all. Omnichannel was a someday thing, not to be reckoned with today.
It's not surprising to discover that executive support for supply chain transformation has come slowly and is cited by close to half of FMCG respondents as a top-three inhibitor. Most have opted to just outsource the problem to companies like Instacart and, particularly at the height of the pandemic, just charge more for the same product.
To understand better solutions, it's instructive to look at Walmart and Target. They really did change the game soonest, rapidly recognizing that workers were critical to their operations and, frankly, in physical danger, and paid them for their trouble. They, along with Home Depot and Target, have also begun circumventing the carriers by hiring their own container ships for time-sensitive product coming from foreign countries. Their prior investments in supply chain technologies have helped them execute on their promises to consumers and each were handsomely rewarded with record sales and earnings in the first year of the pandemic.
It's unclear to us how better coordination between supply chain, merchandising and marketing is an inhibitor (as cited by General Merchandise retailers) when most of the problems are out of their hands completely. Perhaps marketing has been advertising products that the company simply doesn't have in stock. Perhaps merchandising hasn't prioritized the orders that are most critical to get out on the selling floor. It's a vague response, in our view, and more appropriate for non-extraordinary times.
Having said all of that, there is really only so much a retailer can do on his own – even the largest– when carriers are being sanguine as they bring home record profits (as of this writing the cost of a container of product continues to skyrocket). As of July 2021, the Wall Street Journal reported that the cost of a container had quadrupled. By the end of September that number had skyrocketed even more since July 2020, AFTER the pandemic had started. At long last, as of this writing, the Biden administration has stepped in, and finally, ports will be open and working 24×7 (we remain gob smacked that this was not in place months ago).
And what's to become of mid-market retailers, who can't afford to hire their own container ships or have the clout to force those on the water into shore? We worry that imbalances in the industry are going to only become more extreme, with SMB retailers seriously suffering this past holiday season.
We look forward to presenting these findings in earnest in the weeks to come.
Newsletter Articles
January 10, 2022