Sneak Peek: How Retailers Are Operationalizing Analytics With New KPIs

						Username: 
Name:  
Membership: Unknown
Status: Unknown
Private: FALSE
					
Later this month, RSR will publish a new benchmark report about how retailers are operationalizing analytics by using metrics to improve business processes, and by inserting actionable information into operational processes to enable an agile response to real time conditions. The following is an early look into what we learned.
Retail is a famously results-driven industry and one of its oldest maxims is "whatever it takes".  But with the recent sharp increases in the volume of omnichannel customer orders and the number of new fulfillment options (such as BOPIS: buy-online-pickup-instore, or direct-to-consumer delivery), retailers worry that the cost so serve any customer order may destroy the profitability of that order. The same holds true on the supply side of the retail operational model.  Today's supply chains are more fractured than before, which in turn requires retailers to be much more agile in their responses to bottlenecks, supply interruptions, socio-political events, and even the weather.
With all the challenges on both the customer facing side of the business and the supply side, operational processes have both sped up and have become more complicated- and that cries out for optimization, which is predicated on the analysis of process metrics.  While it's apparently still early days, operationalizing analytics is likely to happen in two phases: first, with the implementation of new measurements into operational processes so that they can be analyzed and optimized; and secondly with inserting real time alerts derived from analytics into processes so that immediate corrective decisions can be made, even to the point of automating certain decisions.
The clearest indication that the move towards operationalizing analytics is still in its early days in the retail industry is found in the emphasis that over-performing Retail Winners put on informing the executive team (Figure 1).  Winners aren't waiting for new ways to improve the business to bubble up from LOB managers or the field: for them meaningful change starts at the top.
Figure 1: It Starts At The Top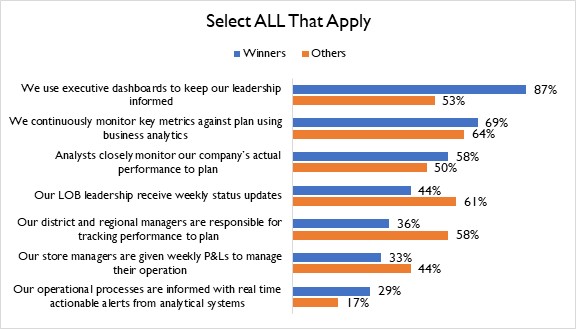 Source: RSR Research, June 2022
And while overall less than 25% of all retailers in the study report that "operational processes are informed with real time actionable alerts from analytical systems", over 70% more Winners than others make that claim.
Reporting Vs. Alerting
Before retailers can enable operational KPIs that are actionable, there are other more pressing problems that should be addressed first.
Retailers have a lot of transactional data available from their operational systems, and it is used for reporting purposes. But it's clear that using that data to alert the business to exceptional conditions in operational processes in real time will not be easy to accomplish (Figure 2).
Figure 2: Not Fast Enough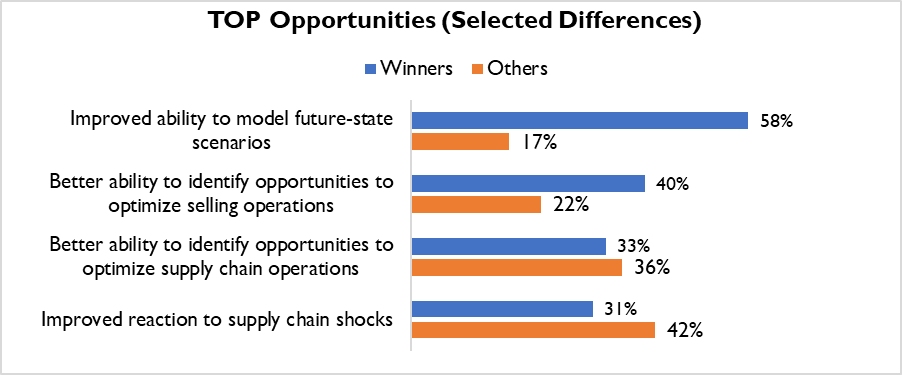 Source: RSR Research, June 2022
The top operational challenge, that data is siloed in the operational systems that produce them, is a leftover from retailers' legacy IT portfolios. Right behind that is another legacy problem: dirty and incomplete data. These two tend to go together, and they stand in the way of using advanced data analytics such as AI.
One phrase sums up all of the business challenges that retailers identify: retailers need greater process agility. The operational challenges associated with supporting improved responsiveness to real time conditions represent a big to-do for most retailers.
But over-performing Retail Winners are adept finding opportunities that help them to overcome the business challenges they see. In this study, we can see a cause-and-effect: the need for greater agility sets up the top opportunity that retailers identify: scenario modeling, to help improve reactions to supply chain shocks, make it possible for retailers to optimize supply chain and selling operations, and enable quick reactions to sudden shifts in consumer demand.
As we've come to expect, the desire to model future-state scenarios is a Winner's choice – but we were surprised at how many more Winners favor this opportunity than non-Winners (Figure 3).  It's clear that Winners enable greater agility with modeled responses, while average and under-performers are focused towards establishing process alerts that are actionable.
Figure 3:  Winners' Moon Shot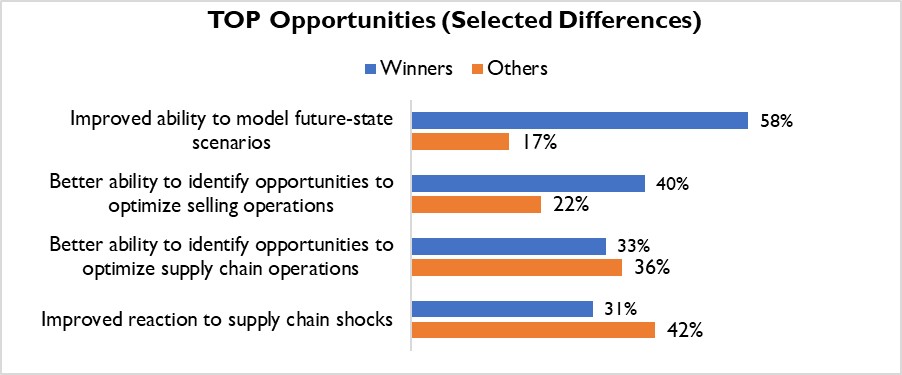 Source: RSR Research, June 2022
The good news is that retailers don't need convincing to understand the value of new process KPIs and the analytics that generate them. It's a "glass half-full or half-empty" issue. While most retailers are either using or actively considering implementing virtually every metric we asked about in the study, there's clearly a lot of work to be done to make them more effective.
Editor Note: Be sure to check out RSR's new research, entitled How Retailers Are Operationalizing Analytics With New KPIs, scheduled to be released in last week of June. It's loaded with data and commentary, and features recommendations for all retailers to consider based on our findings.  And like all RSR reports, it is completely free of charge to registered users.
Newsletter Articles
June 15, 2022