SAS Global Forum In Review
Username: 
Name:  
Membership: Unknown
Status: Unknown
Private: FALSE

						
My partners and I recently attended the SAS Global Forum, the latest industry event that, just a few short months ago, was fully intended to be held in a large conference hall full of people traveling in from all over the world. Instead, the folks at SAS used the weeks and months since the first moments COVID-19 made it clear that live events would be postponed for quite some time to prepare for a virtual event: and prepare they did.
We've yet to see anything so slickly produced as this. Take a look the landing page that greets attendees as they arrive: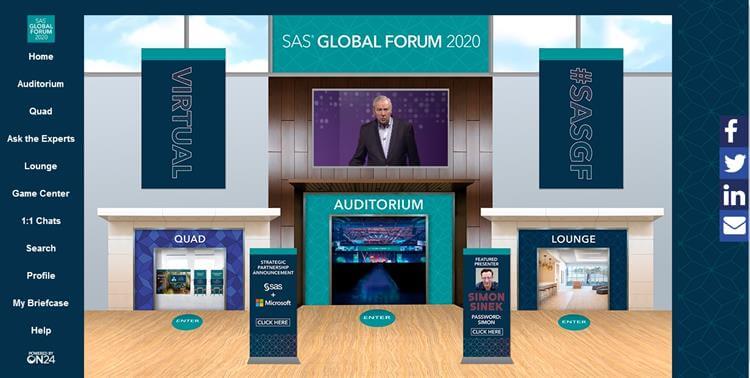 We've been to enough of these online events now to safely say that nothing has come close to this in terms of production quality. And we feel comfortable sharing such a screenshot because SAS also did something else very different: they opened registration to anyone who wanted to attend, not just customers. This is a bold move, and it means people got to see into the inner workings of a company long-lauded for having a unique culture entirely unto itself. So much so, that in our private debrief call after event, the company shared a story that one of its long-time partners was blown away to discover that SAS has a user awards ceremony each year. The result? SAS's partner forum this year may be entirely different. That's really quite cool. May transparency enlighten us all!
The session I found most interesting was entitled Actions for Navigating COVID-19 for Retail/CPG, and was hosted by Richard Widdowson, Vice President of Retail and CPG Solutions. Within, Widdowson hosted Jessica Curtis, Principal Solutions Architect and Dan Mitchell, Director of Product Marketing to talk through some of the most "right now" things SAS can do to help retailers adapt to the "new normal" (or the "never normal", as we've been calling it here at RSR).
Dan Mitchell shared some particularly sobering stats that I'd not heard quantified to date: with so many retailers reporting increasingly large swaths of their business moving online, roughly $5B in grocery sales has already shifted to order online/pickup in store or direct-to-home delivery – that's a 37% increase.
Even though uptick like this might initially sound great, all that movement online has overwhelmed many retailers, to the point where some retailers have had to put shoppers in a queue – just to shop online.  Retailers all over the world were issuing virtual "tickets" (akin to a virtual deli-counter number), just to enable customers to transact online. In Dan's words, "We always assumed online was 'always on' – but the load has been too much, and a lot of chaos has been introduced. So all of our best planned models have gone out the window – they are broken, and they need to be repaired."
This means some serious problems upstream, as well. The warehouses, the vendors – all are affected by what customers are doing, what they are looking for, how they are shopping, and so on. So SAS is aiming to feed everything it learns on the customer side back into the supply side, as well. And while it knows there is no shortage of ways retailers need help in this new reality, there are three major ways it believes it can offer help immediately, and frames them as follows:
1. Understand what customers are coming to your site;
2. Learn how can you segment those and understand what they are looking for;
3. And then, as you design what those new customer journeys look like in this "new normal", once they are at the point of putting something in their shopping cart, identify exactly how you are best able to help them.
How does SAS plan to help do this in such short time? "We're able to easily instrument the retailer's website, start to collect a vast amount of information, and give them the ability to automate how they are segmenting customers, automate how they are responding to them, and really understand in real-time exactly what's happening," said Mitchell. 
As we have so often said since the onset of this pandemic, the ability to model for disruptions that might have been unthinkable even just a few months ago will likely be a major factor to which retailers survive the coming months and years. The past few weeks have shown us that no, nowhere in the world are we going to be able to "re-open" without incident. Stores are going to be opening and closing as spikes in the virus move around from one geography to another. As a result, we need to embrace this reality adapt accordingly, and thankfully technologists like SAS are moving quickly to help us get there.
One side note: for those vendors whose virtual events have thus far lacked the glossy slickness of SAS's Global Forum, know that there is sometimes a trade-off for such production – namely: the ability to interact with those presenting material in a meaningful way. SAS did as good a job as anyone could ask for here (1:1 "chats" were even available), but with a production of this sophistication – and at this scale – there's still a lot more creative ideas required to make a large virtual event feel anywhere even remotely as interactive as a live interaction.
While there's still no substitute for "let me buy you a drink" and the conversation that follows, we look forward to seeing what tech vendors come up with in the coming months to try and get us closer.
Newsletter Articles
June 30, 2020