Just In Time: Digital Transformation Is Here And Now!

						Username: 
Name:  
Membership: Unknown
Status: Unknown
Private: FALSE
					
Very recently, one of the big "Cloud" companies announced fantastic 2020 results and offered upbeat guidance for 2021. The company pointed to the retail sector being one of the high-points, and so I reached out to a friend who is the head of the retail & consumer goods vertical to offer my congratulations. I commented that, "the tech world seems to have realized that retailers are getting serious about their digital transformations- that must be great news for you!", and his reply was simple: "You are right!" (emphasis on the word "right").
The digital transformation agenda has finally and irrevocably come to retail. Our pre-COVID research showed that most retailers knew that the energy behind big changes on both the selling and supply sides of the operational model was increasing. As the partners at RSR have said both individually and collectively, COVID in 2020 accelerated retailers in whatever direction they were going – and that trend continues now in 2021. That also applies to digital transformation efforts.
For a retailer who had already embraced the notion of a digitally enabled selling environment as a major component of its brand promise to consumers, it was and is time to step on the gas. For everyone else it's time to get in the car and drive or miss out entirely. Around 2014, RSR used a quadrant to explain eCommerce in the context of consumers' paths-to-purchase, that pivoted on two points: "decision proximity" and "physical proximity". The gist of it was that if a consumer was far from a decision and far from the product, then the goal of the digital channel should be to inform. Conversely, if the consumer was close to making a purchase decision, then the focus of the digital channel should be to transact. The question was, what happens when a consumer is close to making a decision and physically close to the product, i.e. in the store? Technology didn't have a good answer for that even 8 years ago.
Well, that doesn't matter as much anymore, and the pandemic-times proved it. The focus needs to be whatever the consumer wants it to be. Now, fast-moving-consumer-goods merchants (grocers, c-stores, drugstores – the very last retail vertical to jump on the eCommerce bandwagon) are doing whatever they need to do to enable customers to buy anywhere-get-anywhere (the essence of omnichannel). Fashion retailers- who strongly favored image-oriented rather than commerce-oriented eCommerce – are now all-in on the buy-anywhere-get-anywhere journey too. This was highlighted in a benchmark that RSR is currently developing, where we learned that FMCG and Fashion retailers are now leading the charge by increasing investments in existing commerce platform/technologies. And more fashion retailers in particular want to add new digital shopping experiences (as opposed to using the eComm presence primarily to build brand awareness).
That's not all. On the supply side of the business, RSR's research is showing a clear line of demarcation between over-performing "Retail Winners" and other competitors. For example, our February 2021 study entitled Managing Through Disruptive Times With Data Driven Speed And Adaptability showed that a hallmark of winning in the current environment is the ability to anticipate the probability of sudden changes in consumer demand and to pivot quickly if/when such "shocks" happen (Figure).
Figure: New Demands Demand New Answers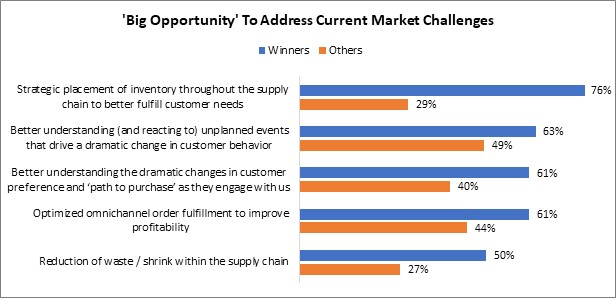 Source: RSR Research, February 2021
Changes on both the selling and supply sides of the retail model are all part of a broader change, where retailers use information and insights derived from that information to create competitive advantage. In May 2020, global consulting firm Deloitte outlined seven "digital pivots" that enable a digital transformation. They are:
Flexible, secure infrastructure
Data mastery
Digitally savvy, open talent networks
Ecosystem engagement
Intelligent workflows
Unified customer experience
Business model adaptability
Let's focus on "Data mastery", because (along with a "flexible, secure infrastructure"), it is fundamental to all the rest. Deloitte further defines data mastery as, "aggregating, activating, and monetizing siloed, underutilitied data by embedding it into products, services, and operations to increase efficiency, revenue growth, and customer engagement." RSR's position is that  both the data and the technology exist to do two things that retailers weren't able to do before: to use both internal and external data to develop models of various operational scenarios and then to move very quickly when real-time conditions match a model, all in an effort to adjust in an agile way in time to alter outcomes. This is what technologies variously called "fast data", "digital twins", IoT, and AI/ML are all about.
Those are all big investments for most retailers, and so a reasonable question might be, "does it work?" It turns out that Deloitte has an answer for that too. On April 22, the firm released the results of a new survey, concluding that "digital transformation is crucial for organizations to win in a post-covid world". The proof? Here are some of the study's results:
More than three-quarters of the leaders surveyed said their organizations' digital capabilities significantly helped them cope with the challenges triggered by the pandemic. 
Nearly two-thirds of respondents believe that organizations that don't digitize in the next five years will be "doomed."
More digitally mature companies performed better than lower-maturity companies during the past year. They were about twice as likely to generate net profit margins and annual revenue growth significantly above their industry average.
The bottom line is that the retail industry's embrace of the concept of digital transformation is just-in-time. Whether it was logic or COVID, the industry is moving forward, because it is now a necessity. The good news is that this isn't the first time around the block on this issue for some of the big consulting and technology firms. The concept of Digital transformation has been a "thing" since about year-2000, and some industries embraced the concept early-on (for example, commercial banking). So retailers aren't necessarily treading on new ground. But they do have to get going.
Newsletter Articles
May 4, 2021