Is Retail Finally Ready For The Internet Of Things?

						Username: 
Name:  
Membership: Unknown
Status: Unknown
Private: FALSE
					
The last time we studied the Internet of Things (IoT) was in 2019. Three years – in normal times – is a long hiatus between research surveys in the retail industry. What we found at that time was that the needle was moving slowly on retailers' awareness and appetite for IoT technologies (which we define as all signaling technologies – RFID, beacons, anything Bluetooth-enabled and geolocation technologies – that can be used to track and report the status of people, products, and things in the retail environment). Very slowly. So, we decided to let the topic simmer.
However, for two of those three years the world was disrupted by a global pandemic which, as it turns out, had far reaching impact.
Supply chain woes now dominate the headlines. Product shortages, price inflation and uncertainty abound. So, when we set out to study the Internet of Things at the beginning of 2022 we had a going-in expectation that retailers would be somewhat more engaged. What we found however, right from the start, was that their ears and eyes are wide open to the possibilities (Figure 1), particularly as it relates to these tools' ability to gain visibility into their inventory and drive down the cost of managing it effectively.
Figure 1: General Attitudes Are Favorable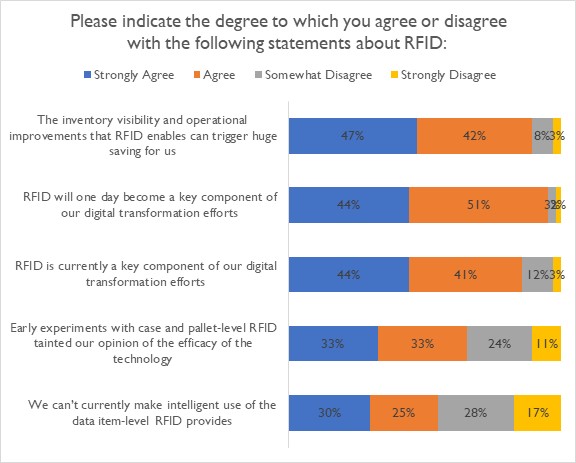 Source: RSR Research, March 2022
The fact that 95% of retailers also see RFID as a key component to their digital transformation efforts is staggering, especially when one considers that 55% agree that they currently can't make any intelligent use of the data that item-level RFID provides.
Quite simply: retailers believe – even if they are yet to experience a tremendous amount of the benefit. This will be a major theme of what unfolds in the pages of the research.
A Focus On Shoppers
While retailers have high hopes for the big-picture-ways these tools can help them in their day-to-day, some of the most interesting data in this research surrounds the specific ways they think IoT can and will shape the conversation they have with shoppers.
As we see in Figure 2, the ability to deliver on omnichannel orders is absolute top of mind in the current supply-chain-gone-wild environment.
Figure 2: And The Opportunities Are Far Reaching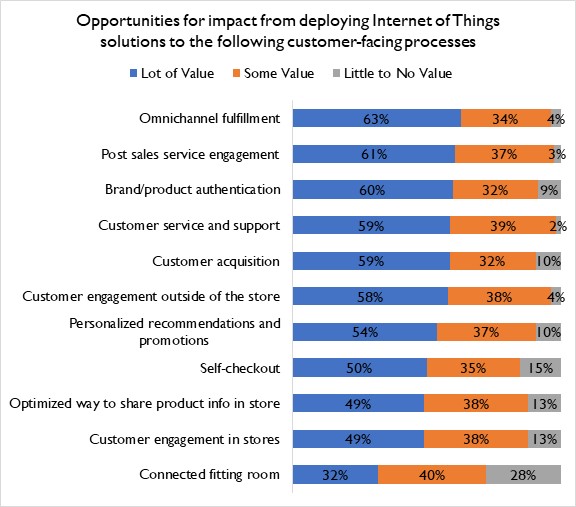 Source: RSR Research, April 2022
Customers are getting frustrated with inventory issues, fulfillment issues, lack of service – the list goes on and on. The good news is that retailers recognize this, and now concede that they need all the help they can get. In the current climate, this data makes perfect sense, and we examine it – and 19 more charts' wroth of data – in the full report, which is available here.
Newsletter Articles
May 10, 2022