Is COVID-19 Killing Black Friday?
Username: 
Name:  
Membership: Unknown
Status: Unknown
Private: FALSE

						
RSR stopped reporting about Black Friday back in 2013. Between the years 2007 and 2013, the RSR partners would brave the weather and the crowds and report on what we saw, and from those observations try to tease out some insights about what retailers should expect the holiday season to be like. But in our 12/3/2013 newsletter, I wrote:
"… the biggest issue, at least as far as the future of the retail industry is concerned, is that the whole notion of a 'physical' shopping extravaganza has become passé. One reason for that is that the deals aren't really special. PCWorld magazine reported on November 26th:
'Black Friday as the start date for holiday sales is gone. And that isn't just because a few stores are opening after dinner on Thanksgiving. Go to the sites for Best Buy, Target, or Walmart right now, and you can view every deal that will be available on Black Friday. In fact, Target's deals started on November 24, and Walmart's deals began even earlier.'"
Fast forward to 2020, and 2013 seems a lifetime away. Who would have guessed, even two years ago, that the world would be dealing with a pandemic that shuttered (at least temporarily) businesses, schools, and government offices? As it relates to retail, RSR has come to view the coronavirus as an accelerant, i.e. whatever direction a business was going was likely to happen faster than anyone might have anticipated in December 2019.
Black Friday events are directly at odds with governmental advice about social distancing. But retailers have for years been de-emphasizing it as the ONE BIG DAY for super deals. COVID looks to be the last straw that will break the back of the post-Thanksgiving event.
On October 2, financial news network CNBC reported that:
"Black Friday has been losing its clout for years. The coronavirus pandemic could be what finishes it…. (In recent years) Black Friday's importance has faded. More retailers have offered similar sales online, making it possible for shoppers to browse and buy from their couch or on their smartphone rather than having to camp out in a Best Buy parking lot, or cut through thick crowds at the mall. In the midst of a global health crisis, shoppers have even more reason to avoid long lines to snag a deep discount on a smartwatch, boots or a Nintendo Switch…. Some 64% of consumers said they are less inclined to shop on Black Friday than they were a few years ago, according to a survey of more than 1,500 consumers by Accenture. Nearly 60% said they had also lost interest in shopping on Cyber Monday. Those numbers have risen from 55% and 47%, respectively, from last year."
COVID, the Accelerator
The coronavirus pandemic has certainly affected store-level shopping, especially mall-based fashion and specialty retailers. The pandemic has caused an avalanche of bankruptcies in the retail industry, with such notable companies as Neiman Marcus, J Crew, Lord & Taylor, Pier 1, Brooks Brothers, True Religion, and Lucky Brands (just to name a few) falling victim to dramatic downturns.
Other retailers, particularly those selling general merchandise and fast-moving consumer goods, have seen a dramatic acceleration in consumer adoption of new order and fulfillment options. Take for example, "Buy Online Pickup Instore" (BOPIS). At the very beginning of the COVID crisis, RSR was surveying retailers about the future of that customer shopping option. Responses clearly showed that grocers and GM merchants in particular were already anticipating big changes in how consumers shopped: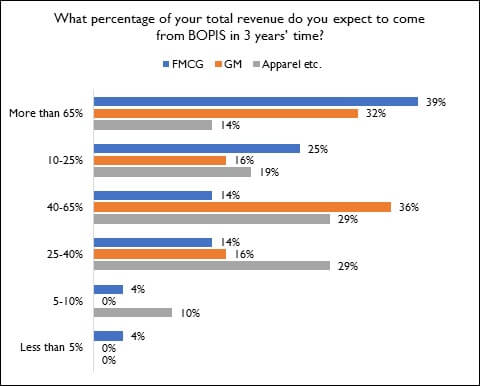 RSR Research, March 2020
Arguably, the pandemic has compressed those 3-year projections into less than one year.
The other part of the omnichannel agenda that the pandemic has accelerated is direct-to-consumer (DTC) order fulfillment. Retail verticals that were once thought of as inherently dependent on instore shopping (most notably, Grocery) are seeing big increases in DTC. For example, Instacart recently reported that its customer order volume has surged as much as 500% year-over-year in recent months due to COVID-19.
Challenges Abound
The news isn't all good when it comes to new fulfillment options– especially when it comes to DTC. Retailers have become increasingly dependent on small package delivery companies like the U.S. Postal Service (USPS), United Parcel Service (UPS), FedEx, and others to get deliveries to consumers' doorsteps when they expect it.
Financial news channel CNBC reported in August that:
"In June, USPS delivered 93.7% of first-class mail packages on time, according to ShipMatrix, a software provider that analyzes shipping data. That's in line with or better than UPS or FedEx, which reported on-time delivery rates of 94% and 91.5%, respectively, during the same period. However, it's still down from May, when the USPS delivered 94.9% of packages on time."
In fact the USPS has struggled all year, the result of both increased volume resulting from the coronavirus and actions taken by U.S. President Trump's administration. Even given those factors, USPS performance is improving to meet demand: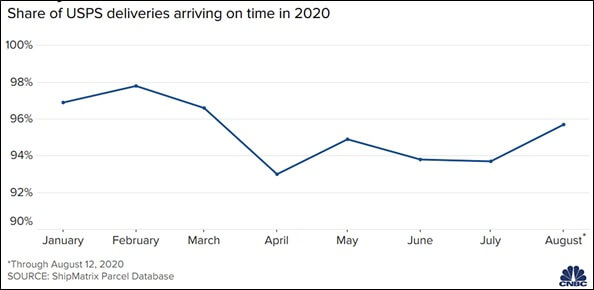 UPS has also experienced some on-time delivery problems. In July, the company sought to soothe consumer irritation with this statement:
"UPS is delivering volume similar to the peak holiday shipping season, with about 70% of our deliveries to residences, compared to about 50% during the rest of the year as a result of the COVID-19 pandemic. The vast majority of our services continue with the same time commitments our customers have come to expect. However, to allow for additional time to make deliveries because of the pandemic, UPS temporarily modified the UPS Service Guarantee effective March 26."
(PS. to the UPS leadership: you should remember Ronald Reagan's advice, "if you're explaining, you're losing!")
Big DTC shipper Amazon currently depends on USPS and UPS. Walmart happens to use FedEx in addition to UPS. Fedex also has its share of ontime delivery problems. ShipMatrix recently reported that FedEx Ground delivered 93.3% of April packages on time and 91.4% of May packages on time, compared to 2019, when its on-time performance was at 98.5% and 94.6% for April and May.
What It Means To Black Friday
What does all of this have to do with the demise of Black Friday? Simply this: as consumers for one reason or another adopt new ways of shopping, the importance of going to a particular place on a particular day to shop deal prices has diminished sharply. That is why retailers like Best Buy, Home Depot, Amazon, and Target are all offering hot deals to consumers whenever it suits them, for example, Target's "Deal Days" or Amazon's "Prime Day".
Given the now-common perception that retailers are struggling with on-time DTC deliveries during the COVID crisis, consumers may already be shopping for holiday deals (I know that's happening in my household!). That means that holiday offers may have to be spread over long periods of time, and that in turn affects planning and the earnings advice retailers give to investors. It's not trivial.
And it also means that the pandemic has accelerated the demise of Black Friday as a litmus test for how the holiday season will play out. So, RSR was right to walk away from our Black Friday prognosticating – we were just a little premature, that's all. Now it looks like consumers are walking away from it too.
Newsletter Articles
October 13, 2020