Are Retailers REALLY Ready For AI?

						Username: 
Name:  
Membership: Unknown
Status: Unknown
Private: FALSE
					
Brian and I are going through the data for our soon-to-be-released study on Business Analytics in retail, with an emphasis on the role of Artificial Intelligence/Machine Learning.
To the surprise of almost no one, given our current pandemic, respondents are particularly bullish on AI-infused supply chain analytics. Also to the surprise of no one, budgetary concerns dominate. We live in very uncertain times.
But to our great surprise, when comparing Retail Winners (those whose comparable sales exceeded the average in 2019), are less likely to give up on legacy analytics technologies than non-winners. In fact, if you look at the figure below, you'll see that in almost every area we queried, non-winners were giving up on their legacy capabilities.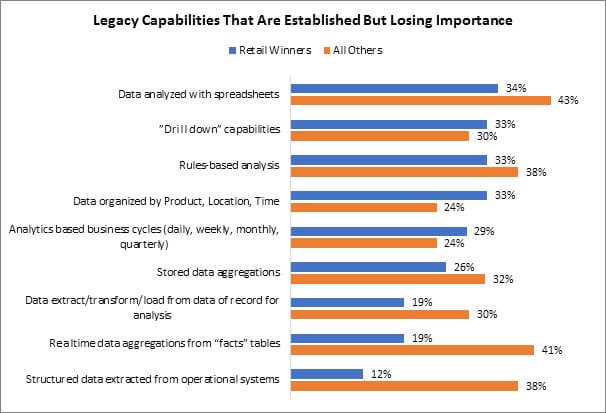 This is just wrong.
Two examples really jumped out at us: 41% of non-Winners think that their ability to perform real time data aggregation from "facts" tables is losing importance, and 38% believe extracting structured data from operational systems is ALSO losing importance.
Of course, we're happy to see non-Winners finally giving up on the world of spreadsheet analysis, but sorry it has taken so long for them to get there.
Still, as we went through the rest of the data, we found that non-Winners really aren't quite ready for AI to replace these legacy applications and functions.
Only 41% of non-Winners have a chief analytics officer
Only 31% have a chief data scientist
In fact, only 19% have data scientists with competency in this area at all
Worse, perhaps, when we got to specific functions, we found that non-Winners don't see the value of new data analytics capabilities nearly as much as Retail Winners. In almost all capabilities we queried about, they are at least 20-30% less likely to see the value as Retail Winners.
In fact, absent an executive mandate to move to AI-based analytics, these retailers don't believe they're going to get past their internal challenges, from budgets to an IT group that they believe is ill-equipped to manage new and complex tools.
That leads us to the question and title of this piece: are retailers really ready for advanced analytics? I think the answer must be "it depends." Those who have found success at retailing and have good experience with existing technologies and the IT group that must support them are ready to move forward. Those who have not had those experiences, are not.
We have a lot more data to share on this topic, and you'll be seeing it in the next few weeks, but this is a serious watch-out that I wanted to explore with you today. Technology dollars are likely to be scarce for some time. Yes, retail sales are up for now. Some people are even predicting a blockbuster holiday season. But others are predicting the worst fall (particularly in the US) in history, due to a resurgence of COVID-19. There will be no time, or collective to figure out what to do in times of crisis. People will likely be working from home again, weary of Zoom and other virtual meeting programs, and simply not ready to deal.
This is a prescription for bankruptcy. We're seeing the weakest of the herd already culled, and mall operators stepping in, in some cases, to ensure survival of retailers they perceive as iconic. For the rest, it's time to buckle up for a wild ride.
Give those legacy tools another look, and certainly give those new tools a serious look as well. But don't be complacent. There are some intense times ahead.
Newsletter Articles
August 18, 2020