All Products Are Not Created Equal

						Username: 
Name:  
Membership: Unknown
Status: Unknown
Private: FALSE
					
In our most recent research on the ever-morphing nature of contactless retailing, virtually ALL retailers told us they view BOPIS customers as having larger order sizes. But we also wanted to know about the perceived profitability of those orders. After all, the hoops retailers have been forced to jump through to provide safe alternatives to more "traditional" versions of BOPIS haven't been free.
They have often come at great cost to overall margin. Getting employees to act as warehouse pickers and vehicle loaders, while still being helpful, customer-facing problem solvers as well as cashiers adds expense. Still, as we can see in the figure below, what a retailer sells – and how that segment has fared in recent months – has a tremendous effect on the issue, though retailers across all segments report the orders as more profitable to some degree.
Figure: Differences Take Effect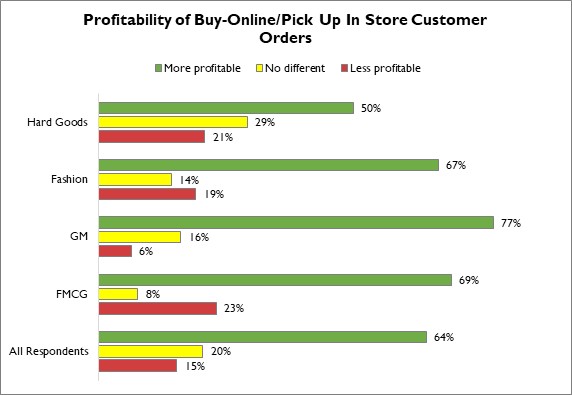 Source: RSR Research, August 2021
As a practical matter, retailers selling General Merchandise and Fast Moving Consumer Goods (FMCG) belief that new BOPIS methodologies are well worth the added effort. This makes good common sense. During the COVID-19 lockdown, these retailers were most likely to have been deemed "essential" – in both the minds of consumers and local lawmakers alike – allowing them to not only stay open, but to experience dramatic improvements in sales, often in record numbers. Fashion retailers, by way of comparison, were viewed as far less vital during lockdown, and are therefore less likely to see the new hoops they must jump through to fulfill BOPIS orders as worthwhile.
What is most surprising about the figure, above – at first glance, at least – is that Hard Goods retailers are the least likely of all retail segments to view BOPIS customer orders as being more profitable. Like much of the data in the ensuing pages, it is important to think about why this is the case. Here, it is a clear indication of a simple truth: people still visit hard goods stores to purchase the items they expect to be in stock. Since these shopping journeys are less likely to start online, hard goods retailers are just fine with keeping the need to blend physical and digital worlds as a longer-term project – for now, at least. What's particularly interesting is that prior to 2020, FMCG retailers were also happy to take this exact tack as well.
But in a year of disruptions, one of the most profound trends that emerged was the increased popularity among shoppers to utilize alternative services for such things as groceries and toiletries. Consumers' unwillingness to take long-list shopping journeys to the grocery store and pharmacy resulted in widespread adoption of BOPIS, BOPAC, and delivery services. Retailers had to accommodate these demands, and many realized a windfall of profitability as a result. Meanwhile, due to the shorter nature of the journey (and quite frankly, for many – the need to at least get out of the house occasionally), hard goods were still "in-store" shopping experiences. Simply put, hardgoods retailers feel less need to push the go-faster button when it comes to marrying the digital and physical worlds.
We invite everyone to read the full report, What Contactless Shopping Means For The Store, which is sponsored by Package Concierge. The report, like everything we write, is free of charge to all registered users. We hope you find it useful!
Newsletter Articles
September 28, 2021